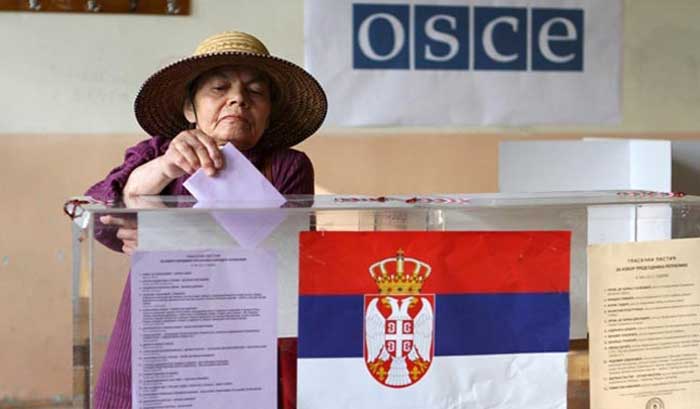 Pristina, March 17, 2014/Independent Balkan News Agency
By Elton Tota
On Sunday (16.03), Serbs have voted in the extraordinary parliamentary elections of Serbia. OSCE mission in Kosovo had opened 10 ballot gathering centers on the occasion of the Serb parliamentary elections. These centers which had 15 branches, were opened in the Serb inhabited areas in the south of Iber river and in the northern communes.
IBNA correspondent reported that all ballot gathering centers in Mitrovica, Zubin Potok and Zvecan closed at 8 pm. OSCE said that Serb residents that live in Kosovo have been able to vote quietly.
OSCE spokesman, Nikola Gaon said that the elections went without incidents. He said that 34,42% of 107,958 voters voted in Kosovo.
According to police, there were no incidents during the elections. Deputy chief of the regional police for the north of Kosovo, Besim Hoti declared that everything went well and there were no incidents.
"In the region of Kosovo, police has done its job based on the request of OSCE. There have been no incidents during this process. The counting of the ballots will take place based on the agreement with OSCE in the cities of Vranja and Rashka in Serbia.
400 OSCE members were involved in this process.
Serb citizens: We are hoping to remain part of Serbia
Serb citizens who participated on Sunday's poll said that they hoped that the area where they live remains part of Serbia and to be administered by Belgrade.
"I and my family voted. We want to remain part of Serbia. We want the north of Kosovo to remain a part administered by Serbia. We will see if this happens, but I highly doubt it", says a Serb citizen.
Another Serb from the north of Mitrovica says: "I'm going to vote, because these are Serbia's elections. I don't vote for any other elections. I don't agree with the agreements signed by Belgrade and Pristina and I don't vote in the Kosovo elections".
Another citizen from Mitrovica says: "It's been many years that we feel unsafe here. Serbia does nothing for us. They must take care of us. We need support and not good words…".
Serb elections in Kosovo were held following the decision of the government of Kosovo a few days ago that all citizens with dual nationality can vote in the parliamentary elections of Serbia and that this process was going to be supported by OSCE through ballot gathering centers.
Prime Minister Hashim Thaci said that the government would not allow Serb elections organized by Serbia to be held in Kosovo. Nevertheless, he said that Serbs of Kosovo are entitled to vote, stressing that this rights is only recognized to those citizens who according to Constitution of Kosovo have dual nationality.
Political accusations against Pristina
Parliamentary Serb elections have taken place in Kosovo before. The only difference consists on the fact that these are no longer called ballot centers, but ballot gathering center.
Opposition in Kosovo says that the holding of Serb elections in Kosovo is a breach of the sovereignty of the state.
The speaker of parliament, Jakup Krasniqi has also considered Thaci's declarations as a demagogy.
He has considered declarations according to which Serbia could not hold its elections in Kosovo as mere lies.
"Citizens must hear the truth. It's being declared that Serbia is not holding elections, but only gathering votes. But how can votes be gathered without holding elections? What's the name that we can give to this?", says Krasniqi. /ibna/