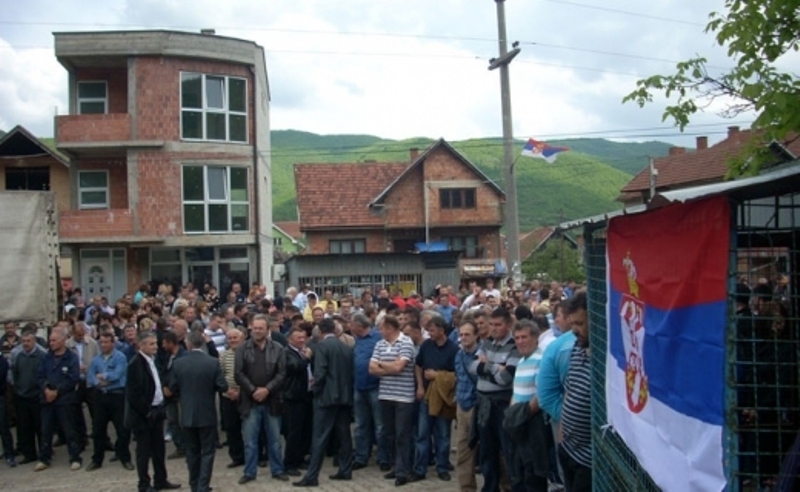 PUBLISHED: 09:08, 13 March 2014 | UPDATED: 11:45, 13 March 2014
Pristina, March 13, 2014/Independent Balkan News Agency
By Elton Tota
Hours of tensions in the early morning in the north of Kosovo, when tens of Serb citizens have violently entered a police station in order to release a detained person who was wanted.
The event has taken place in Zubin Potok, in the northern part of Kosovo. The arrested person was Slobodan Sovrlic. He had been arrested on Wednesday (12.03) by police for disrupting public order, but after his arrest, authorities discovered that he was in the EULEX wanted list.
Sources at the scene said that there were around 50-60 people involved in this event. 3-4 masked people entered the police station to release the arrested person. Material damages were caused during this event.
The incident is also confirmed by the mayor of the city, Stevan Vulovic. He told journalists today that "several residents had entered police station and released the arrested person, Slobodan Sovrlic.
Mr. Vulovic told journalists that "several cars belonging to the European Mision for the Rule of Law, EULEX, have left Zubin Potok".
Mr. Vulovic said that the citizens had surrounded police station of Zubin Potok during the time the arrested person was released. After this, the situation went back to normality and the participants dispersed.
Office for Kosovo in the Serb government reacted about this incident through a press statement, where it condemned this event and warned that such incidents may be exploited by the Albanian side.
"Any violence which is caused by Serbs, is always used as a pretext in carrying attacks against them and their property", states the official press statement issued by Belgrade.
Ministry of Interior in Kosovo and the government have not issued any declarations on the event so far, and neither has EULEX.
Police launches "Steel Ring" action plan
Police of Kosovo declared that the escape of the Serb from the local police station in Zubin Potok came a result of the pressure put by a group of persons who had gathered in front of the police station demanding his release and the negligence shown by police officers in securing the arrested man.
"Police of Kosovo has launched the 'Steel Ring' action plan in order to localize the arrested person", official police sources said to IBNA.
As far as negligence is concerned, measures have been taken to suspend the deputy chief of the police station and further procedures will take place in investigating all the circumstances of this event along with the Police Inspectorate.
Police said that the arrested Serb faced charges of "intimidation" and "disruption of public order" and police later discovered that an arrest warrant was in force against him since 2012 for being involved in criminal activities against personnel which is under international protection and damage against properties. /ibna/