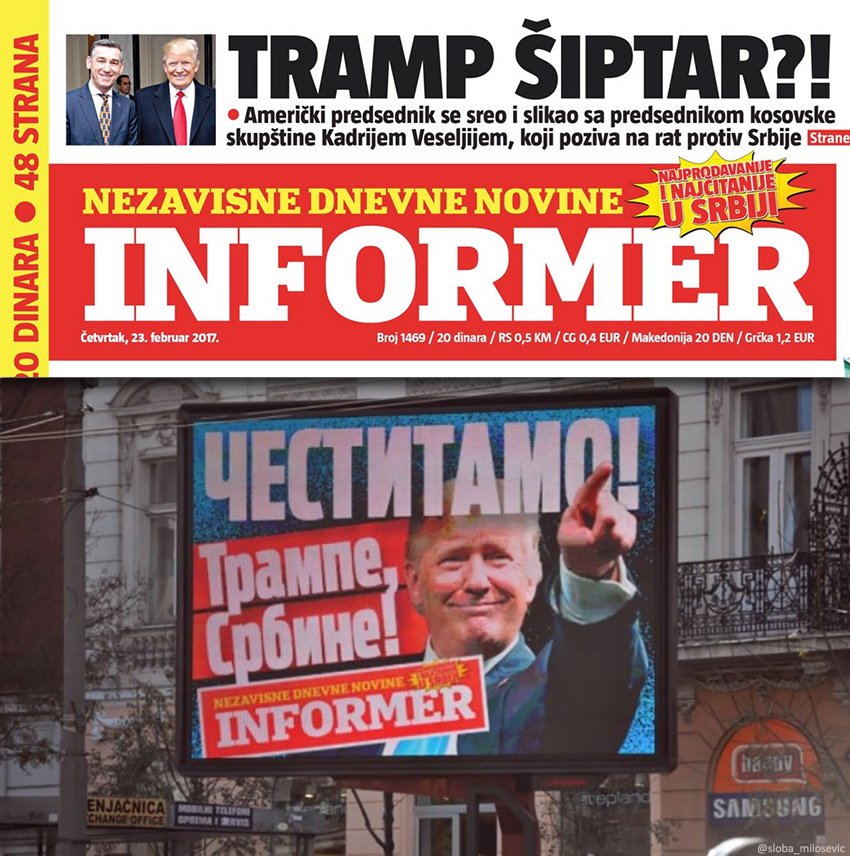 When new United States president Donald J. Trump recently congratulated Kosovo for the anniversary of the proclamation of its independence, he seemingly disappointed those in Serbia who allegedly expected that America under his rule would change its policy in the Balkans – in favor of presumed Serbian interests.
When Trump met Kosovo's parliament speaker Kadri Veselji earlier this week, the supposed disappointment became even bigger. But the real cold shower was the simultaneous statement by Nikki Haley, new American ambassador in the United Nations: "Kosovo deserves to take its rightful place in the international community, including full membership in the UN."
Still, Trump was praised by some Serbian politicians and media when he defeated Hillary Clinton in 2016 elections. A tabloid had published Trump's poster; another had leased billboards in Belgrade congratulating him.
A shoe factory owner from Banjaluka sent Trump's wife Melania special pumps. And all this was done with the expectation that the new US president would "promote Serbian interests" – in contrast to Hillary Clinton who presumably would not, but rather follow Bill Clinton's and his successors' course.
Tomislav Nikolic, Serbian president, was among those who were speaking of the big changes that Trump's victory would bring to the world, including Serbia.
Now, it seems that these suspicious dreams have dispersed. The best evidence is today's front page of the Informer, a leading Serbian tabloid, which supports the current Serbian government. "Trump Shiptar" it stated in the headline, using a serbian pejorative term for Kosovo Albanians. Back in November 2016, Informer leased billboards praising Trump's triumph over "anti-Serb" Hillary.
Tabloid Blic reports on Trump's "slaps" on Serbia. But Kosovo's parliament speaker Kadri Veselji stresses that his meeting with American president wasn't a slap for Serbia. "This was rather a message for Serbia that it should behave in a different manner", he told Lajmi, Kosovo newspapers in Albanian.
Finally, Matthew Palmer, State Department official who recently visited Belgrade, said in an interview that the US remain interested in the Balkans. He denied Serbian tabloids reports that Trump and Russian president Vladimir Putin have agreed "influence zones" under which Serbia would be part of the Russian domain.
Such ideas "sound like speculative fiction", Palmer said./IBNA
Photo: @sloba_milosevic