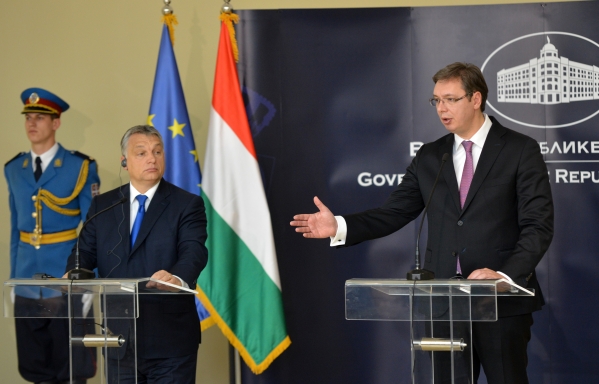 In Hungarians Serbia has true friends, while the political relations between two countries are at the highest level, prime minister Aleksandar Vucic said after joint session of two governments in Nis today. His Hungarian homologue Viktor Orban said that Serbia is on the rise of its economic development.
Vucic said that the bilateral relations are good in all domains.
"Serbia's relation with Hungarian minority is good, and the relation of that country (Hungary) with small Serb minority alike. Hungarians have invested 650,000 euros in (Serbian) school and library in Budapest", Vucic stressed.
The purpose of the joint governments session was to improve the relations between businessmen of the two countries, as well as increasing trade exchange and attracting investors, the Serbian premier explained.
In his words, Hungary is the seventh biggest trade partner of Serbia; in 2015 trade exchange has reached 1.1 billion euros, and expectations for 2016 are higher. "Serbian exports in Hungary has been increased and I am convinced that economic bilateral relations may be even higher", Vucic said.
He specified that he and Orban have especially focused their talks on attracting Hungarian investors not only in Vojvodina, but also other parts of Serbia. The opening of the OTP bank branch in Nis was an example in that sense, Vucic added.
Viktor Orban's statements were along the same lines.
"In recent years serious capital was accumulated in Hungary and we would like to invest it in Serbia, not only around the capital but also in other areas. We would like to have advanced economic relations with the southern part of Serbia". Orban said.
Two governments heads have been asked by journalists to comment US elections. While Vucic said that "Serbia is not big enough to comment world issues", Orban stressed his optimism saying that "now we have at least hope that the situation in which the 'big' dictates to the 'small' will change"./IBNA