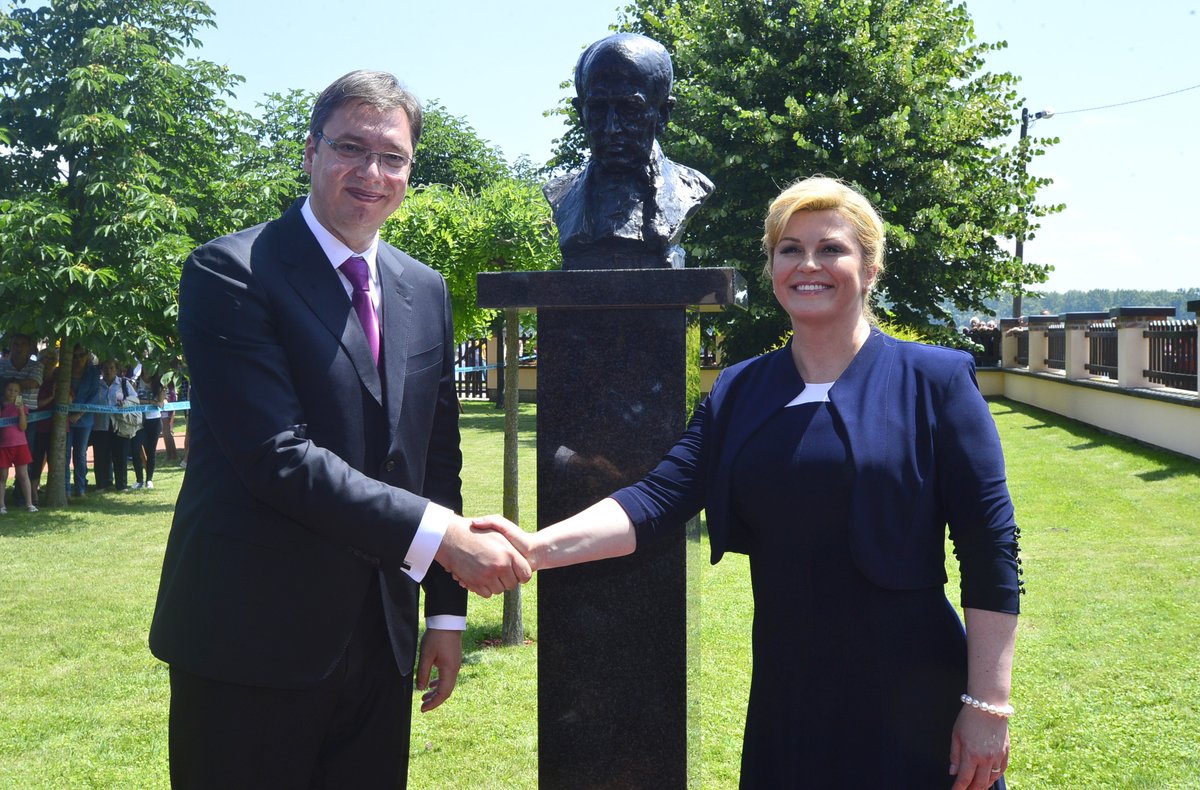 Belgrade, June 22, 2016/Independent Balkan News Agency
By Milos Mitrovic
The meeting of Croatian President Kolinda Grabar-Kitarovic and Serbian technical Prime Minister Aleksandar Vucic "looks like fake regional pacifism", opposition Democratic Party of Serbia (DSS) stated in a press release today. The encounter that occurred earlier this week was "homework given (to Vucic and Grabar-Kitarovic) by Big Brother", Euro-skeptical DSS claimed alluding to United States. Similar reaction comes from Croatian Association of Free Activist, an anarchic group.
"The Kitarovic-Vucic meeting represents an act of continuing tyranny by Vucic, because he is breaching the Constitution; as a technical premier he cannot meet the Croatian President and open the key interstate question", Sanda Raskovic Ivic, head of DSS and member of parliament said today.
If the communication is "meaningful, concrete and effective" everybody would support it; but it was not so in this case, Raskovic-Ivic said.
"The encounter was obviously dictated from abroad, and a 'strong reason' was to open Chapters 23 and 24" in Serbian accession negotiations with the European Union, she went on. Earlier this year Croatia blocked Serbia-EU talks. At the same time Croatia has used the meeting to show "its democratic capacity" because Serbs in Croatia face war-like atmosphere resembling the one from 1990s, Raskovic-Ivic suggested.
A move by Vucic and Grabar-Kitarovic has give some hope to Serbs expelled from Croatia and those who live in it alike, "but this was rather an icebreaker than a historic encounter", DSS leader concluded.
"The objective of the meeting was not to calm tensions and normalize Croatian-Serbian relations; Croatian President has transmitted the message of U.S. and EU bureaucracy considering Serbia's open rapprochement with Russia and China. They are concerned over Vucic's visit to Moscow and his meeting with Putin as well as invitation sent to Serbia to join Eurasian Economic Union and Chinese President's visit to  Serbia. Both Serbian and Croatian political elites are not interested in reconciliation because they use ethnic tensions for daily politics and impoverishment of both countries in the interest of big capitalists to whom they obediently serve", Marijana Mirt from  Association of Free Activist told Serbian Danas daily.