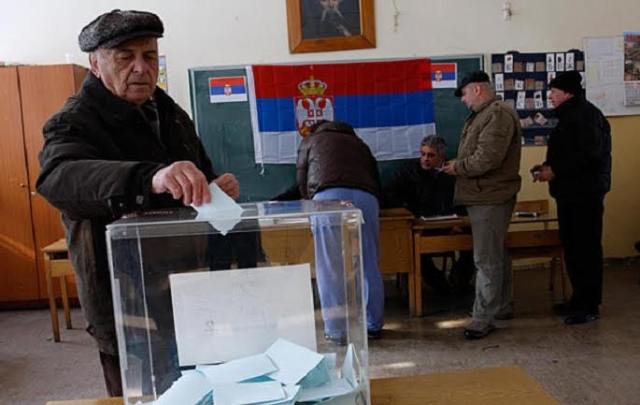 Pristina, 23 March 2016/Independent Balkan News Agency
By Elton Tota
The North of Mitrovica has woken up on Wednesday with electoral slogans of the party of the Serb Prime Minister, Aleksandar Vucic.
These slogans invite the Serb citizens in the north to vote the current Serb prime minister, Aleksandar Vucic in the April 24 elections.
All of this electoral campaign has been organized by the representatives of the Serb List in Kosovo.
Dalibor Jevtic, minister for Communities and Returns in the government of Kosovo, who comes from the Serb List, doesn't deny the fact that Serbs of Kosovo will vote Vucic and his party.
"On 24 April, Serbs of Kosovo will massively support the policy of Aleksandar Vucic, the policy of the government of Serbia, which since 2014, it has done a lot for us", Jevtic said.
Experts of political developments in Kosovo say that it is normal for the Serb List to demand the Serbs of Kosovo to vote Vucic's party, due to the proximity that this political subject has with the Serb PM and his party.
But they have different opinions in relation to the way Serbs of Kosovo will vote.
Petar Miletic, former deputy Speaker of the Parliament of Kosovo, says that there are no accurate figures as to how the Serbs of Kosovo will vote, but he believes that the Serb majority will back the Serb Progressive Party, which is led by the current Serb Prime Minister.
Rangjel Nojkic, expert of political developments, says that he's unsure who the Serbs of Kosovo will vote, although their votes are not comparable in number to the ones that will be cast by Serb voters.
"We're not sure how muchthe Serbs of Kosovo will vote the Serb List, because this party has disappointed Serbs a lot", Nojkic said.
However, he believes that the majority of the Serbs of Kosovo will vote for the Serb Progressive Party, but not to the extent that they voted it in the previous elections. /ibna/