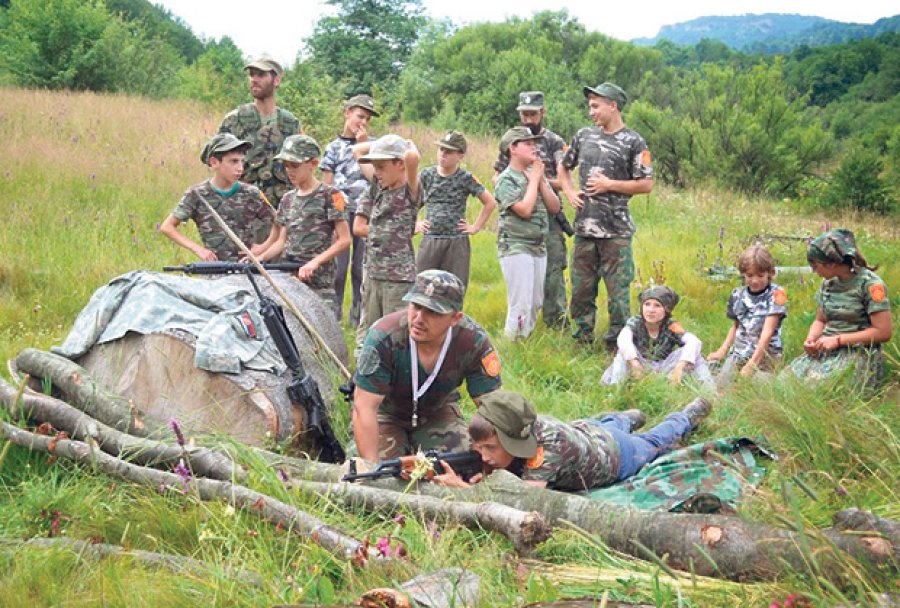 By Milos Mitrovic – Belgrade
Serbian police checks the allegations on "archery trainings" for children in so called Saint Lazarus youth camp, police director Milorad Veljovic said today. Children have been trained to shoot using automatic weapons replicas, Belgrade media reported earlier this week. "The investigation has been launched in order all the facts to be determined", Veljovic told Tanjug news agency.
Canonically unrecognized zealous "True Orthodox Church" has organized ten days camp for children in Kucaj mountains, eastern Serbia. This so called church has previously promoted "practically free of charge" camp on its website.
The representatives of Serbian Orthodox Church (SOC) have condemned "scandalous misuse of children" stressing that police should do its job.
SOC Metropolitan Porfirije has said that such trainings for children "have nothing to do" with Christ and Gospel adding that "True Orthodox Church" is self-proclaimed group. Velibor Dzomic, priest and church law expert, has appealed to believers not to be fooled by propaganda of those "spiritually unskilled".
Religious Information Agency editor Zivica Tucic has underlined that any political party, sports club and especially religious community cannot organize "military camp". "Christianity is not belligerent religion. The Church is fighting for the country and for the people by praying, it teaches people to save themselves, to reach the kingdom of heaven. The state has monopoly over military means and trainings", Tucic stressed.
Zealots are considered as orthodox fundamentalists with motto "orthodoxy or death". SOC regards them as belligerent and stubborn heretics, B92 television reported.  "True Orthodox Church" members consider themselves as defenders of "pureness of true orthodoxy" and believe that SOC is "government's church".
Zealous movement in Serbia has its routs in Esphigmenou monastery in the Mount Athos, Greece. In 1970s Esphigmenou monks separated from the Ecumenical Patriarchate after several orthodox churches have accepted Gregorian calendar.
In 1995 three Serbian monks joined Esphigmenou protesting over ecumenical patriarch's visit to pope John Paul ll in Vatican. Akakije, one of them, told B92 that the story on camp for children has been exaggerated by media.
"Archery was practiced only one day during the course which also included plays, sports, mountaineering…", self-proclaimed bishop Akakije said adding that the idea of the camp was to "thought history of Serbs through catechism".