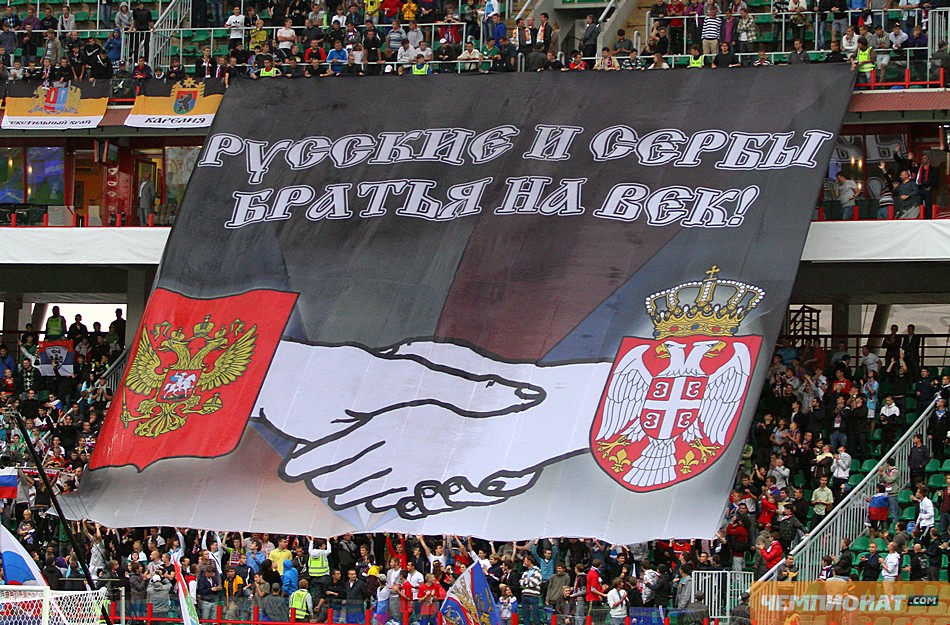 By Milos Mitrovic – Belgrade
Serbian volunteers presenting themselves as the members of "Chetnik movement" have arrived in Sevastopol "to support Russian people" amid ongoing tensions in Ukraine, Itar – Tass news agency reported on Wednesday.
"We represent "Chetnik movement" and you may compare us to Cossacks", Milutin Malisic, "Wolves Chetnik guard commander" was quoted as saying by Russian agency.
"Our objective is to support Russian people on behalf of the Serbian people. At this moment, everything resembles here the situation we had in Serbia. The West and Europe are financing the opposition and they say they want European perspective, but this is all lie", Malisic said.
"We have been invited by Cossacks. During the wars in the former Yugoslavia many Russian volunteers have fought at Serbian side. They have helped us like brothers. Our duty is to be here", Malisic said adding, however, he does not expect massive support from Serbia "because we are small nation". "But we love Russia very much".
Malisic said that five volunteers from Serbia have arrived in Sevastopol. According to Cossack sources, they will be deployed at the checkpoint at the entrance to the city.
On Tuesday, Serbian Prime Minister, Ivica Dacic, said that he wishes Ukraine and its people to recover from the crisis, and that Serbia will be constructive and provide assistance if necessary.
"The developments in Ukraine are deplorable and I wish the country to recover. Serbia, a former part of Yugoslavia, knows what that means, and expects that everything will be resolved peacefully," Dacic said adding that both Russia and Ukraine are friendly countries to Serbia.
Earlier this week pro-Russian group "Dveri" held a rally near the Russian Embassy in Belgrade in order to support Kremlin policy in Ukraine. "Dveri" leader Vladan Glisic said that demonstrations in Kiev were "the conspiracy of the West, tycoons and fascists".
Photo: "Russians and Serbs brothers forever" banner at the Moscow stadium in 2011.