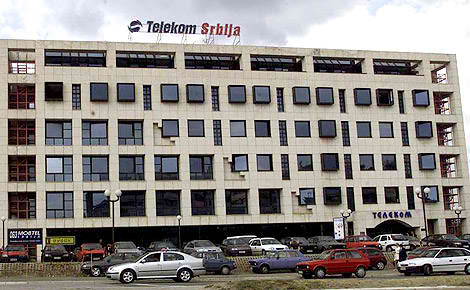 By Miloš Mitrović -Belgrade
"Telekom Srbija will be sold definitely; the Government will announce the decision in the end of June and invite the bids in autumn", Serbian daily "Blic" reported on Thursday. Telekom Srbija is the national telecommunications corporation. The company offers a range of fixed-line, mobile, and Internet communication services in Serbia, Bosnia and Herzegovina and Montenegro.
The Government should offer the entire stake, which means the 80 percent's state owned shares and 20 percent's held by small shareholders, the official source told "Blic". The small shareholders are all Serbian citizens, in accordance with the Law on free shares distribution; the employees and the former employees of Telekom Srbija are also among the small shareholders.
It is believed that by the privatization of Telekom Serbia could gain EUR 2 billion. However, the members of the ruling coalition are at odds regarding the use of the expected sum. Minister of economy and finance Mlađan Dinkić, who is the leader of the United regions of Serbia, took the position that the amount should be directed towards reducing the sovereign debt. Deputy PM Aleksandar Vučić would rather use the money to prop up the economy. Vučić is also the leader of the Serbian Progressive Party, which is the main party of the coalition.
According to ''Blic'', the discussions between Vučić`s aids and the American and Russian partners, which showed their interest to purchase the Telecom, are still considered as unofficial. ''At the same time, contacts had been made with German and Australian partners, as well as with the national telecommunications corporation of the United Arab Emirates'', ''Blic'' reported.
''By selling the Telecom we can get more money than it was offered to the former Government, but the question is what should we do with this amount. To throw it away?'', Vučić has rendered recently.
''If we use this money to calm social tensions, what shall we do next year, or year after? It`s not so simple to sell something. The problem is that we don`t have the projects in which this money could be invested. Injecting this money into the public sector would be catastrophic for Serbia. The deficit would rise even more, and the important national resource, Telecom, would be wasted'', Vučić explained.
Last month Prime Minister Ivica Dačić, who is the leader of the Socialist Party of Serbia, said that no companies had been interesed in purchasing the Telecom.