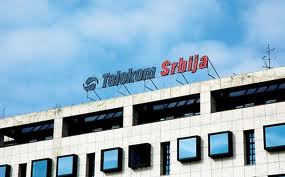 By Miloš Mitrović – Belgrade
Serbian ruling coalition had not reach internal consensus regarding privatization of Telekom Srbija, minister for economy and finance Mladjan Dinkic said at the press conference on Wednesday.
It is believed that by privatization of Telekom, the national telecommunications corporation, Serbia could gain EUR 2 billion.
"There is no consensus among members of the ruling coalition. Telekom Srbija will not be offered for sale in the near future", minister Dinkić noticed.
Dinkić, who is the leader of the United regions of Serbia, recently took stance that the money that was to be earned by the privatization of Telekom should have been directed towards the reduction of the public debt.
However, the Deputy Prime Minister and the leader of the Serbian Progressive Party (SNS) Aleksandar Vucic opposed this Dinkić`s position. ''By selling Telecom we can get more money than it was offered to the former Government, but the question is what should we do with it. Throw it away?'', Vučić said recently.  SNS is the pillar party of the ruling coalition.
Vučić specified that Serbia did not have any projects in which the money gained by selling Telekom could be invested. In his opinion, injecting money from the privatized corporations into the public sector would be catastrophic.
Through making revision of the budget, Serbia could save approximately dinars 37 billion (EUR 325.1), Dinkić announced on Wednesday. "Stabilization of the public finances, structural reforms in the public sector and improvement of the investment climate are the objectives of the budget amending", Dinkić stressed.
Dinkić announced that the government would not change the revenues, given the fact that the economy has already been overburdened, and that it could only reduce the expenditures by approximately dinars 50 billion (around EUR 439 million).
On Wednesday, the government started the procedure of the budget amending. The Parliament discussion is scheduled for the July 1st.
Dinkić reiterated that the salaries and pensions in the public sector would be increased by 0.5 % in October. However, by this measure the average salary and pension will be raised for 250 dinars (2.18 EUR) / 125 dinars respectively. He also announced further increase of the salaries and pensions in 2014; in April it will be increased by 0.5 %, in October by 1 %.
Although the risings are rather symbolic, they represent the opposite measure to the one recommended by the International Monetary Fund (IMF). The IMF recommends Serbia to freeze salaries and pensions in order to recover its public finances.