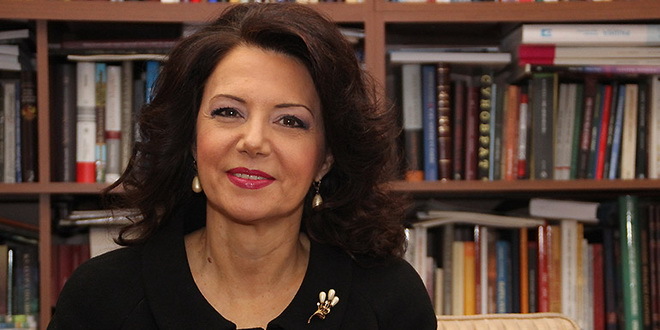 The young people have stood up against lies, autocracy and media occupation, Serbian opposition politician Sanda Raskovic-Ivic (photo) said commenting the ongoing "Protest against dictatorship" in Belgrade and other Serbian cities. Raskovic-Ivic, a member of parliament with the conservative group "For the Salvation of Serbia – New Serbia", admitted in an interview that the current prime minister Aleksandar Vucic has got the majority of the votes in presidential elections on April 2.
But she accused Vucic of "media occupation" and raised the question of methods that led him to electoral victory. "And he got them (votes) by merciless spending  the state funds for his campaign, by expensive TV ads, by coming in a number of conventions by helicopter and by dragging the people with the hundreds of buses to show the strength of the support he enjoys", Raskovic-Ivic said.
"He has occupied 67 to 99 percent of the media appearances and was buying voters directly or indirectly like Milo Djukanovic", she claimed alluding to former long time prime minister of Montenegro.
Raskovic-Ivic specified that Vucic has been paving the streets to please some voters as well as buying them cell phones or distributing groceries, promising jobs or threatening with dismissals "similarly to Milo Djukanovic".
As the factors for Vucic's win she also mentioned incorrect voting lists, a pro-Vucic electoral commission and "shameful" Regulatory Authority for Electronic Media (REM). "The students movement is spontaneous and they started with 'moderate' demands such as the sackings of electoral commission and REM members, as well as the resignations of parliament head Maja Gojkovic, due to her suspension of parliament, and RTS (national state-owned broadcaster) CEO Bujosevic (Dragan). After the government failed to react, they (students) have radicalized their demands with simultaneous arrival of the election fraud evidences", Raskovic-Ivic said.
She recalled that opposition MPs have demanded Maja Gojkovic's discharge after she postponed parliament session in the middle of presidential campaign – preventing opposition voices to be heard via RTS live broadcasting. In her words, this demand is now strengthened with the request of the students. "I must say that students have taught the lesson to us all, because they have united themselves around these demands, unlike the opposition which failed to do that timely", Raskovic-Ivic concluded./IBNA