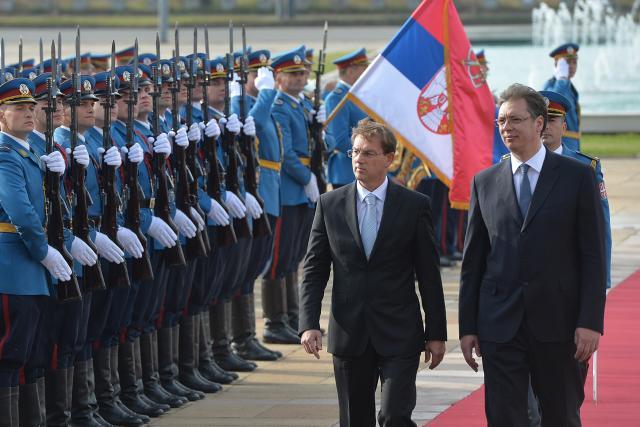 The prime ministers of Serbia and Slovenia, Aleksandar Vucic and Miro Cerar, have agreed on the next steps regarding the assets of the former Yugoslavia.
Speaking during a joint news conference in Belgrade on Monday held after a joint session of the two countries' governments, Vucic said that Serbia is seeking "automobiles that belonged to Josip Broz Tito, and a villa in Bled (Slovenia)," while Slovenia wants to receive "artwork."
There is desire to solve these issues the spirit of friendliness, bilaterally, rather than through the succession process, he noted.
Cerar said that the two countries are also cooperating on the issue of document archives, and that these are "slowly being transferred to Slovenia." This cooperation also extends to the issues regarding joint property and transfer of diplomatic and consular premises abroad, he said.
"We must not stop this process, we must intensify it, so that these things are finally arranged. Cooperation with Serbia will entice better cooperation with other countries of the former Yugoslavia," said Cerar.
Speaking during the news conference, Vucic said that Serbia and Slovenia have increasingly good bilateral relations and underlined that economic cooperation between the two countries is on the rise, and that there are no outstanding issues, with the exception of some elements of the succession.
Vucic said that Serbia and Slovenia tried to cover all spheres of social life during this session, with a focus on political and economic issues.
He recalled that the volume of trade between the two countries last year amounted to €870 million, and at the same time expressed hope that this exchange, which has been growing between 12 and 16 percent this year will exceed the first billion this year.
According to him, the Slovenian companies employ 25,000 people in Serbia, with the total investment from that country amounting to EUR 1.2 billion, but for the first time Serbia also has investments in Slovenia, in the amount of EUR 79 million.
The prime minister pointed out that it was not only the Fructal company that is investing in Slovenia, but that there are also some businessmen that invest in tourism and catering facilities.
As far as economic growth is concerned, there are positive trends, but we still have room for improvement, Vucic added.
Slovenia is a country with which we have almost no open issues, apart from the question of property succession, he said, adding that the question of Beogradska Banka and Ljubljanska Bank in New York has been already solved today.
According to Vucic, there was also a discussion about youth unemployment, which in Serbia is very high, at 43 per cent, while the Slovenians managed to take it down to 16.2 percent.
Vucic said that he spoke with his Slovenian counterpart about this matter in private, with the teams of the two countries discussed what else we need to do and learn in order to find a solution to this problem.
Miro Cerar told the press conference that Slovenia and Serbia have excellent political, but also friendly relations, and pointed out that Serbia is a significant part of the European family and an important player in the stability of the Western Balkans.
According to Cerar, EU member states need to hear what non-member states have to say since they have an active role in resolving this crisis.
Cerar said, referring to a joint session of the two governments, said he was particularly pleased that he agreed with Vucic to open prospects for youth cooperation.
At the same time expressed his satisfaction with the economic cooperation between the two countries, as well as with increasing trade, but especially with the fact that the things had been agreed upon at previous sessions have been fulfilled.
Official welcome
Slovenian PM Miro Cerar was earlier in the day on Monday ceremonially welcomed in front of the Palace of Serbia
Cerar, who arrived in Serbia on Sunday and who is heading a Slovenian government delegation, was greeted by his Serbian counterpart Aleksandar Vucic.
Cerar and Vucic then held a face-to-face meeting, followed by bilateral meetings between ministers, and a joint session of the two governments.
Several agreements were signed afterwards: Serbian Deputy Prime Minister and Minister of Construction, Transport and Infrastructure Zorana Mihajlovic and Minister of Infrastructure Slovenia Peter Gaspersic signed a Memorandum of Understanding on the continuation of cooperation in the field of transport and the implementation of priority areas 1b of the Danube Strategy "Improving mobility and intermodal – rail, road and air transport".
The Ministry of Construction, Transport and Infrastructure said that the cooperation between Serbia and Slovenia in the framework of the EU Strategy for the Danube region began in 2011, adding that a memorandum was signed to continue working on better connectivity of the countries of the region in rail, road and air transport.
So far 150 projects were identified in railway, road and air transport from 14 countries.
The program of cooperation between the Ministry of Culture and the Media of Serbia and the Ministry of Culture of Slovenia for the period from 2016 to 2020 was signed by ministers Vladan Vukosavljevic and Anton Peršak.
The Memorandum of Understanding on cooperation of the Intellectual Property Office of Serbia and the Institute for Intellectual Property of Slovenia was signed by directors of the two institutions, Vladimir Maric and Vojko Toman.
First Deputy Prime Minister of the Republic of Serbia and Minister of Foreign Affairs Ivica Dacic handed over to Minister of Foreign Affairs of Slovenia Karl Erjavec a Record on international treaties of the SFRY.
On the fringes of today's official meetings, the Chamber of Commerce and Industry of Serbia organized a Serbia-Slovenia business forum in collaboration with Slovenian entrepreneurs./IBNA
Source: B92
Photo: Tanjug