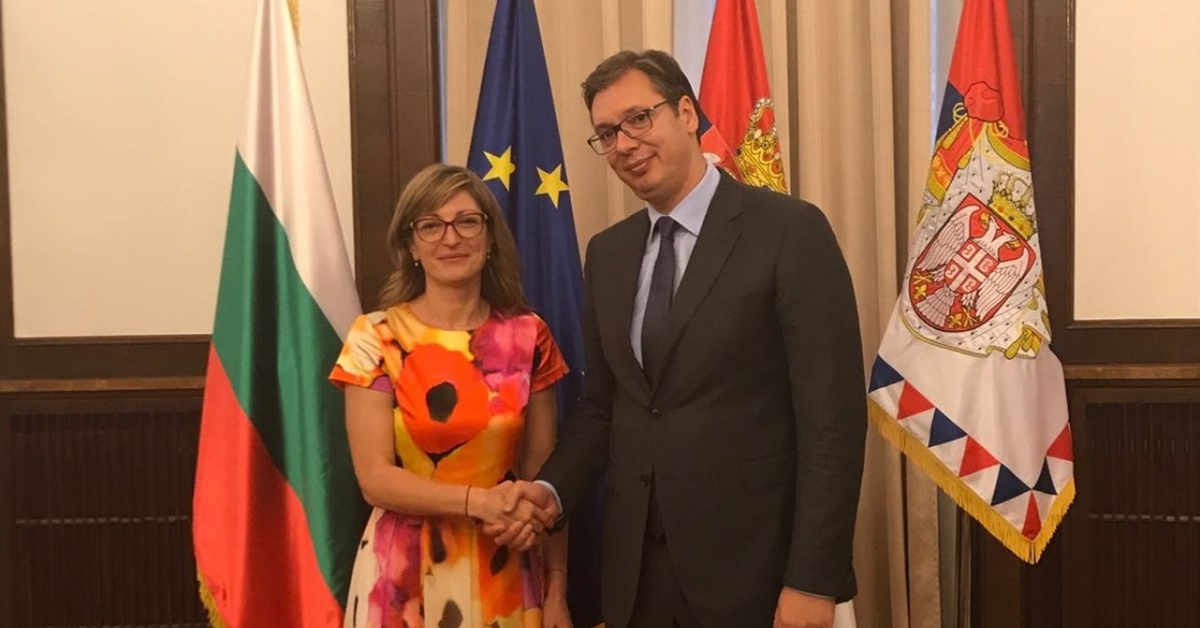 Serbian president Aleksandar Vučić has thanked Bulgarian Prime Minister Boiko Borissov and Foreign Minister Ekaterina Zaharieva for their support for Serbia's European path and thanked Bulgaria for its continuing efforts to continue the enlargement policy of the European Union.
Vučić said this during a visit to Belgrade by Zaharieva, according to statements by the Bulgarian Foreign Ministry and the Serbian president's office.
Zaharieva began a series of visits to Balkan countries with a two-day stop in the Serbian capital starting on July 15. A principal focus of the visits is Bulgaria's forthcoming presidency of the EU in the first half of 2018.
Vučić said that Serbian citizens expect to see whether it is realistic to accede to the EU relatively soon.
"We want to be part of the EU, because we want to be democratic and transparent society," he said, according to a Bulgarian Foreign Ministry statement. "With connections, I am not sure that we will succeed to develop. I think that we can co-operate on common problems in the region."
Zaharieva told Vučić: "We have met with you three times in the 45 days that you have been president", saying that this was a sign of how important it was to Bulgaria to expand the EU to the Balkans.
"The Western Balkans is a top priority for the Bulgarian Presidency. I support your request for a clear timetable for your European perspective. We offer you expert assistance in the negotiation process," she said.
Her message to Serbia was to speed up reforms, with Bulgaria offering expert assistance in the negotiation process and the closing of the negotiating chapters.
The statement by the Serbian president's office said that Vučić also highlighted the possible benefit of signing a new Memorandum of Cooperation between the two countries in the field of Euro-integration, which would allow Bulgaria to provide assistance to Serbia on the negotiating chapters.
Zaharieva stated readiness for expert assistance on Chapters 23 and 24 and reiterated Bulgaria's initiative to hold the EU-Western Balkans Summit, in order to confirm the European perspective of the region at the event.
She and Vučić noted that that bilateral relations between Serbia and Bulgaria are good and that it is the mutual interest to improve co-operation in all areas, especially in the fields of trade and tourism, as well as energy and transport infrastructure.
Vučić and Zaharieva emphasised the necessity of continuing the dialogue between Belgrade and Priština , the statement by the Serbian president's office said./ΙΒΝΑ
(Photo: mfa.bg)