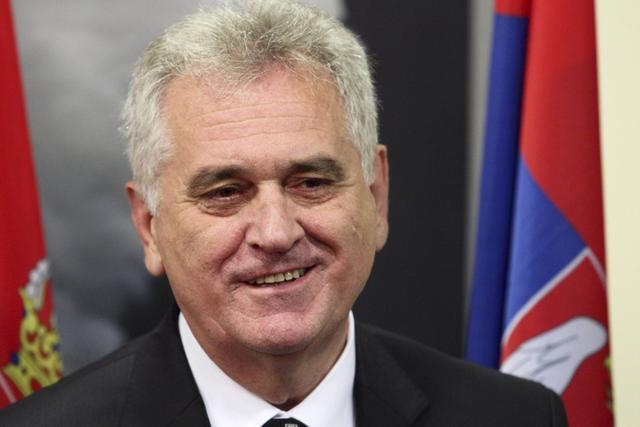 By Miloš Mitrović – Belgrade
Croatian vice prime minister Vesna Pusić said that Serbian president Tomislav Nikolić had confirmed to her that he would attend the ceremony in Zagreb on the occasion of Croatian entry into the European Union on June 30th. On Friday, Pusić visited Belgrade where she met Nikolić, as well as Deputy Prime Minister Aleksandar Vučić and other Serbian top officials.
Croatia will become the 28 EU member state on July 1st.
''Serbia and Croatia should resolve all the open issues at bilateral level as soon as possible and initiate mutual economic cooperation'', the Serbian president`s media office stated in the press release after the meeting.
''The relations between Serbia and Croatia are burdened by the past. However, this does not mean that we should not build the better relations for the future through the cooperation'', Nikolić said during the meeting, according to his media office.
After Nikolić was elected for Serbian president in 2012, reactions in Croatia were mostly negative. Soon after he won the elections, Nikolić admitted that ''some of his dreams unfortunately did not became truth''; ''Greater Serbia'', territorially extended Serbia that should encompass the significant parts of the internationally recognized Croatian state was among these dreams.
Until he changed his political positions in 2008, Nikolić was extreme nationalist and deputy leader of Serbian Radical Party (SRS). SRS leader Vojislav Šešelj is at the detention of the Hague Tribunal since 2003. He is accused for war crimes in Croatia, Bosnia and Serbian Autonomous Province of Vojvodina.
After the elections, Nikolić had made several controversial statements which had jeopardized relations between Serbia and Croatia. The most provocative statement that ''Vukovar is Serbian city'' Nikolic gave to Frankfurter Allgemeine Zeitung. In Croatia Vukovar is considered as a symbol of its independence war that broke after the Yugoslavia collapsed. From 1991 to 1995 Vukovar was controlled by Serbian military and police forces.
Boris Tadic, who was Nikolic`s predecessor in Serbian Presidency, had intensive cooperation with Croatian president Ivo Josipovic. However, Josipovic was persistent in avoidance to meet president Nikolic.
On Friday, Vesna Pusic also met Serbian Deputy PM Aleksandar Vucic. They both confirmed that Croatia and Serbia ''are creating conditions and dismantling the obstacles for dropping the genocide lawsuits against each other''. Pusic and Vucic expressed their hope that the appropriate and rational solution would be found for both countries.
Vesna Pusić said that Croatia would advocate for Serbia to obtain a date for the start of the accession negotiations with the European Union at the Brussels summit on June 28th.