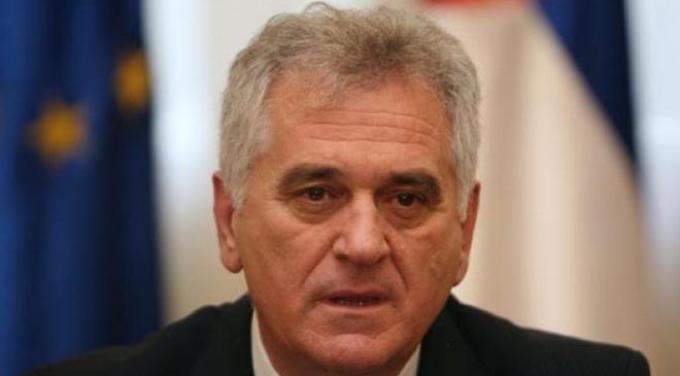 By Milos Mitrovic – Belgrade
Serbian President Tomislav Nikolic (photo), "on behalf of Serbia and Serbian people", apologized to Bosniak people for the crimes committed in Srebrenica, Bosnia and Herzegovina, in July 1995. The army of Bosnian Serbs, according to the ruling by International Criminal Tribunal for the former Yugoslavia (ICTY), killed more than 8,000 Bosniaks, mainly men and boys, in and around the town of Srebrenica. International Court of Justice (ICJ) also found that the Srebrenica massacre was genocide.
However, in the interview for Bosnian Television (BHT), Nikolic refused to say that genocide occurred in Srebrenica. "I do apologize for the crimes committed by any individual in the name of our country and our people", Nikolic said.
The BHT reporter insisted that Nikolic has to admit that "everything that happened in Srebrenica had elements of genocide". Nikolic replied that "everything that happened in the territory of the former Yugoslavia (during the war) had elements of genocide". After reporter stressed that Srebrenica was the most serious case, because 8.000 people had been killed, Nikolic said that he was "kneeling" and "asking forgiveness for Serbia".
Nikolic announced that he was going to visit Srebrenica and pay respect for the victims.
Vesna Pesic, sociologist and once very influential Serbian pacifist politician, commented that President Nikolic, with his apology, made an important step forward and that Serbian citizens support his act. "That (apology) is a push for Serbia to become civic state, what I have been advocating for", Pesic said. She quoted former British Prime Minister Margaret Thatcher, who recently passed away, that "political rival disappears after he starts telling things I was telling earlier".
Until several years ago, Nikolic had been a hard line nationalistic politician and close assistant of Vojislav Seselj, who is charged by ICTY for the war crimes. During the 1990s he was a minister in the Government controlled by Slobodan Milosevic.
Bakir Izetbegovic and Nebojsa Radmanovic, members of the Presidency of Bosnia and Herzegovina (BiH), visited Belgrade on Monday. After they met Nikolic, it was officially stated that all the participants of Belgrade meeting agreed that "all misunderstandings" between two countries should be overcome. The events from the twentieth century should not be repeated, they said.
Zeljko Komsic, another member of BiH Presidency, refused to visit Serbia after Nikolic said that Republika Srpska, an entity of BiH, had been "a Serbian state". During his meeting with Radmanovic and Izetbegovic, Nikolic revealed that he hoped to "establish communication" with Komsic.