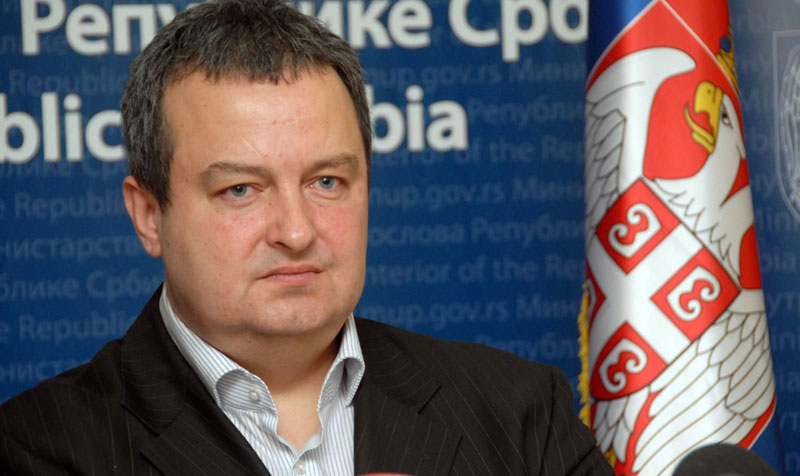 By Miloš Mitrović – Belgrade
Ivan S. (26) was identified and arrested by Serbian police, after he allegedly made the threats to Prime Minister Ivica Dačić, Interior Ministry announced on Thursday.  Earlier this week, the suspected called the police by phone and said he would kill PM`s children. He was arrested in Čačak, 150 kilometers south of Belgrade.
Police officers have found the phone he used to made treats and 11 SIM cards as well, Serbian Broadcasting Corporation (RTS) reported. Ivan S. is suspected for endangering security. Police detained him, in accordance with the prosecution approval. The suspected would be kept in a 48-hour detention, Interior Ministry stated.
On Tuesday, Ivan. S. called the police emergency number 192 and said: "I am going to kill Ivica Dačić`s children". Then he cleared the call, RTS reported.
PM Dačić said that he has been informed with regard to the threats to his family. Dačić emphasized that he was permanently exposed to threats as well as the other government high officials. However, he said he does not put too much attention on it.
"I am not aware whether the threats are serious and I am not the one who should take care about it. I am certainly concerned for my family, but I have never put attention to such threats… And I would not", Dačić stressed.
At the same time, Dačić`s Socialist Party of Serbia (SPS) condemned the threats and demanded the perpetrators to be punished. "SPS demands state institutions to investigate and prosecute all the perpetrators of such criminal deeds in order to prevent possible further incidents", party stated in its press release.
Dačić as well as Deputy PM Aleksandar Vučić and Serbian President Tomislav Nikolić were continuously exposed to threats on extreme right-wing web sites, Belgrade`s "Danas" daily reported earlier this month. Neo-Nazi "Stormfront" web site has been especially active in that sense; "cyber extremists tend to mobilize unemployed and dismayed youth", "Danas" stated.  Dačić, as well as Vučić and Nikolić are highly unpopular among the extreme right-wing marginal groups as a result of their policy of reconciliation toward Kosovo as a precondition for Serbian accession to EU.
Extremist organization "Serbian National Movement Naši" requested Serbian Orthodox Church to excommunicate Dačić, Vučić and Nikolić because of their "anti-Christian and anti-Serb activities". The strength and influence of such groups in Serbia are disputable. Nonetheless, analysts say that all the threats should be taken seriously given the fact that former PM Zoran Đinđić has been assassinated in 2003.