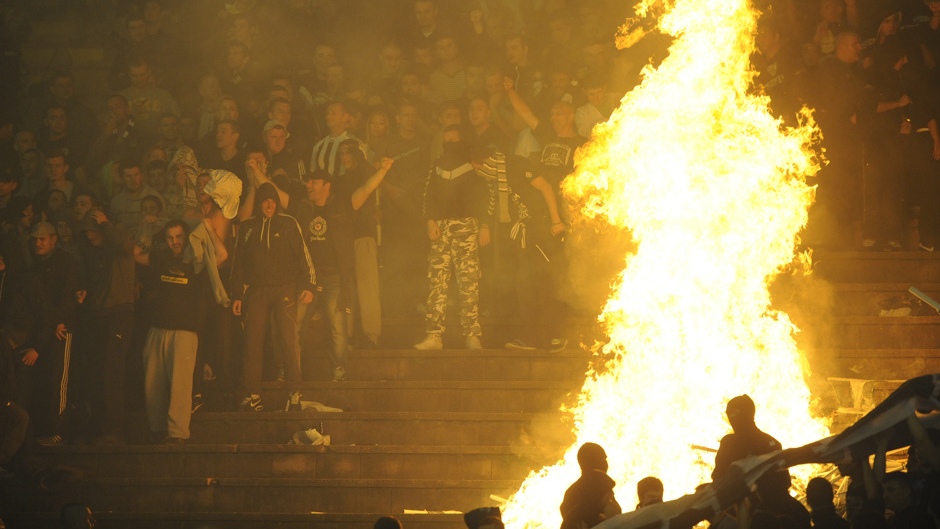 By Miloš Mitrović – Belgrade
Long time hooligan violence in Serbia reached the peak at the "eternal derby", football match between Belgrade rivals Red Star and Partizan on Saturday.  Partizan "fans" hurled volleys of flares on to the athletics track of the Red Star stadium and as the seats in their tier had been removed before the match for safety reasons, they used whatever flammable plastic objects they could get to start a huge fire on the durable concrete blocks. Several incidents occurred near the Red Star stadium and in the Belgrade outskirts as well.
On Thursday, Prime Minister Ivica Dačić admitted government "courting" the hooligans that actually protected prosecution of the criminal groups. However, he stressed that the "alliance" between the state and the hooligans has been established in 1900s, when Yugoslavia collapsed.
"It seems that we are now surprised because mafia and criminal gangs do exist, but for years and decades everyone have been courting these groups; my party has periodically courting nationalism and chauvinism too, because this has been modern and useful for picking the votes", Dačić told journalists at the margins of an international gathering organized in Belgrade.
Prime minister, who is also minister for internal affairs, explained long-standing state tolerance toward the violent groups. "Nobody wants to be booed at the stadiums, but some things must, finally, come to an end. If we want to become normal state, this should not be possible. Serbia is not Wild West and some order should exist and it should be imposed by force", Dačić said.
Aleksandar Vučić, Deputy PM who is also coordinating Bureau for security agencies, announced that Serbia would quit with the criminals, rather than with football fans. This would happen in the days to come, Vučić said on Wednesday. "The state cannot allow people to be endangered just because they are wearing certain jerseys".
Earlier this week senior government sports official Nenad Borovčanin said that Serbia should follow English football's lead in tackling hooliganism. "The response of the state must be strong like the one Britain made when they removed the fences and replaced them with severe punishment for all offenders," Borovčanin told Radio Television of Serbia.
Milivoj Mirkov, an official from the office of the prime minister, said on Thursday that it was necessary to amend the law in order to tackle hooliganism."It should be defined what a group of supporters is, what is its structure, rights and responsibilities, its relationship with the club and how it is financed, so that 'loyal fans' are separated from hooligans."
UEFA boss Michel Platini has warned Serbia on several occasions to end fan violence.