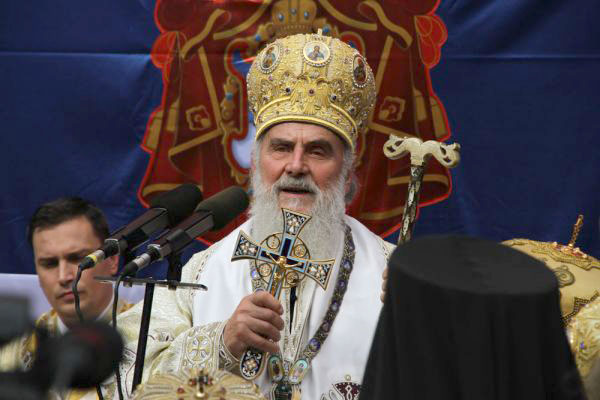 By Milos Mitrovic – Belgrade
Serbian Orthodox Church (SOC) patriarch Irinej has been invited to visit pope Francis in Vatican and both patriarch and SOC Holly Synod have accepted the invitation, Roman-catholic bishop from Zrenjanin Ladislav Nemet has said.
Although SOC has been refusing to host Roman-catholic prelates for years and decades, mostly under the pressure of Russian Orthodox Church, and despite the wish of some of these prelates to visit Serbia – late pope John Paul ll among the others – the invitation was accepted, "Dnevnik" daily reported on Tuesday.
"Both members of SOC Holly Synod which were present and Holy See delegation have agreed that the visit (patriarch's) should be arranged in any case", Nemet told "Dnevnik" without specifying when the meeting of the two parties has occurred. "At this moment, diplomatic negotiations are going on considering the modus for organizing the visit which is not so simple given the busyness of both pope and patriarch".
When recalled to the fact that there is no agreement on pope's visit to Serbia among the SOC Holy See members, despite the support of both current and previous Serbian government Nemet said that Irinej's visit to Vatican "would be an enormous step forward in every respect".
"The time has come to put an end to certain issues once for all and to reconsider the development of collectiveness understanding, which is in full scale Within Roman-catholic Church since the pope Francis has been elected (for the pontiff). This meeting will certainly offer an opportunity to discuss some painful issues – which are more about Serbia and Croatia and less about Roman-catholic Church", Nemet said specifying "World War Two and events that followed it" as painful issues.
"The radical streams within SOC – and it seems that incumbent patriarch Irinej has came closer to their approach – are putting preconditions for pope's visit to Serbia which implies that pope should first visit Jasenovac and apologize to the Serbs", "Dnevnik" commented.
The part of catholic clergy in Hitler's puppet "Independent State of Croatia" ("NDH") have taken part in genocide against Serbs, including in Jasenovac concentration camp. After Second World War "NDH" leader Ante Pavelic escaped to Latin America with the help of Holy See.
"The possible invitation for pope to visit Serbia could be decided only by SOC Holly Assembly of Bishops which is consisted of all Serbian bishops. Many among them approve the pope's visit but there are also those who think that the time has not come yet", Belgrade Archdiocese spokesman Milutin Novakovic said.