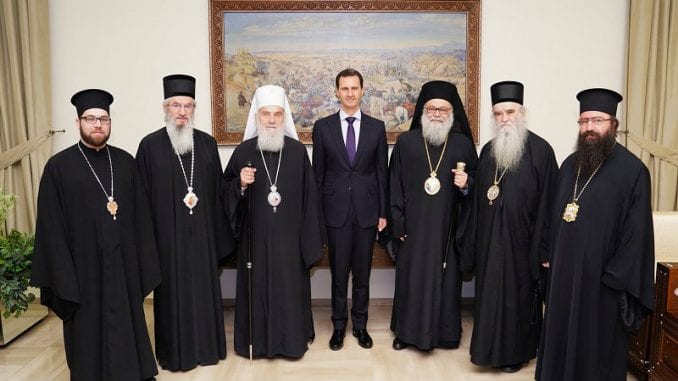 Syrian disputed President Bashar al-Assad has received Patriarch Irinej, head of the Serbian Orthodox Church (SPC) alongside with several SPC bishops. The meeting in Damascus which was held on Monday was also attended by Patriarch John X, primate of the Greek Orthodox Patriarchate of Antioch and All The East.
"President Assad has underlined that both Syria and Serbia are exposed to foreign meddling and faced with undermining their sovereignty and society", according to information published in the SPC website. The Syrian head of state has also stressed "the persistence of both people in coping with such attempts, which (persistence) makes a solid ground for building the dialogue between the people, as well as for cooperation… for long-term relations in the interest of both nations".
Patriarch Irinej has "expressed confidence with regard to Syria's capability to overcome its current situation and restore its historical role of an efficient country, which establishes stability and spreads peace and love throughout the region", the SPC stated. Irinej emphasized the "firmness and patience of Syrian people to preserve its unity despite the threat of terrorism".
The Serbian Patriarch has claimed that he was a witness of the terrorism in Syria during his visit. He has "highly appreciated the principle and firm support of President Bashar al-Assad to Serbia, with regard to Kosovo and Metohija".
During the visit of Serbian Church dignitaries to the Patriarchate of Antioch, the Israeli army shelled Damascus. The Serbian media have been reporting that the Patriarch and bishops were safe. The attack has allegedly took place early on Sunday./ibna