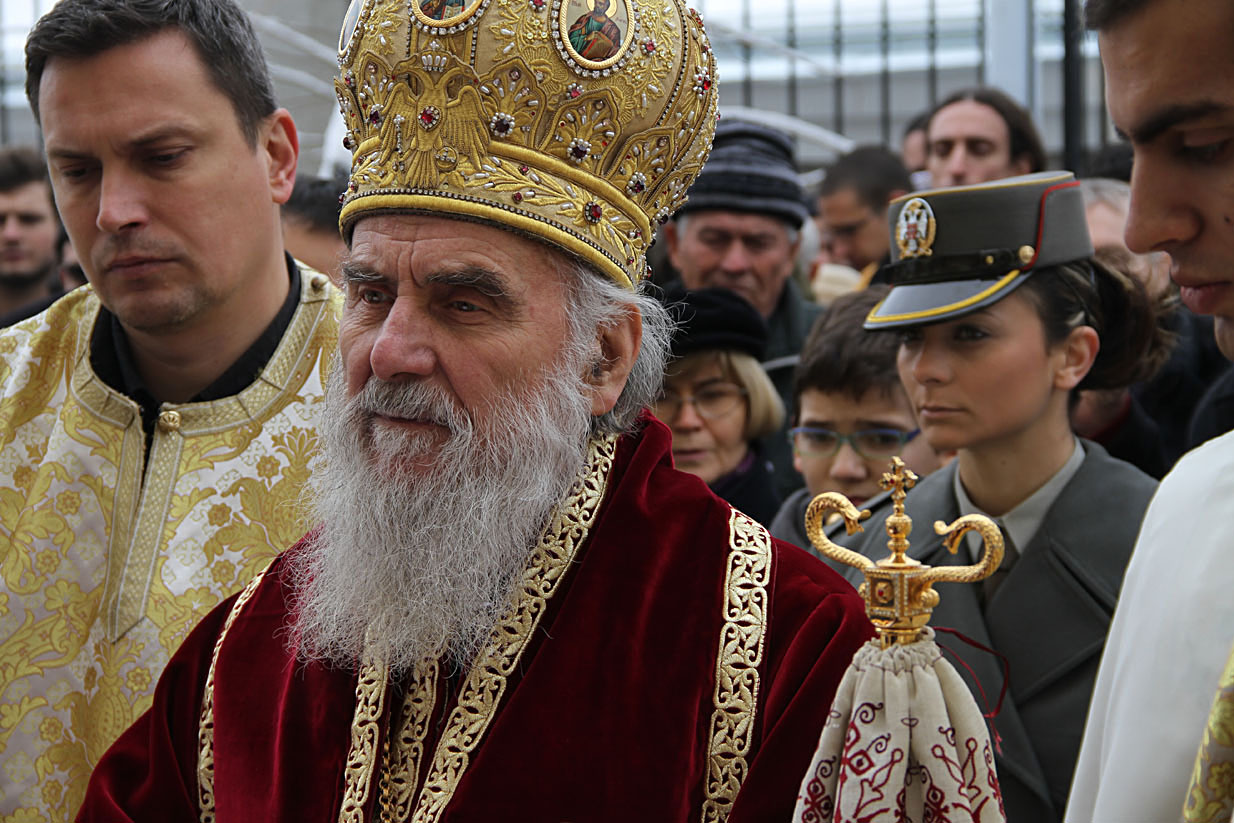 By Milos Mitrovic – Belgrade
As it was the case in past years, Serbian Orthodox Church (SOC) has again condemned the Pride Parade, this year planned for September 28 in Belgrade.
Patriarch Irinej (photo) has issued an announcement which states that the Church considers the parade to be an "unbelievable" gathering "imposed" to both Serbia and Belgrade. According to SOC, the participants of the parade have the right to march, but on their own expense or by using the funds of their "bosses".
"You have the right to parade, but only on your own expense or on the expense of your bosses – whatever you call them – for both the parade and the security, and not on the expense of Serbia which was bombarded, devastated, morally and economically crippled, impoverished, flooded and put in a pillory", SOC stressed.
SOC has asked whether an "essentially absurd parading" should be the reason for government to "spend millions" to protect "a handful of citizens" and their guests, for the march of several hundred meters in the center of Belgrade.
"The organizers of this parading and their mentors from Europe have not learned the lessons from the previous parades", SOC emphasised warning on possible dangers the manifestation may provoke "on both sides".
The Church claimed that the vast majority of Serbian population has expressed its "resistance" during the Pride parade campaigns in recent years.
SOC asked both the organizers and the participants of the parade whether the protection of their "private rights" may be achieved by "humiliating and trampling the moral feelings of the vast majority of humanity".
"If gay sexual commitment is justified and if it should be promoted, why it is not the same with pedophilia which is widely practiced in the Western world", SOC claimed asking organizers of the parade "are you so blinded by your concupiscence and egoism to mobilise the whole state apparatus for your cause".
Extremists and hooligans threats
"Convocation of the Serb concord of Saint Sava" has announced it would organize rally in front of the St. Michael's Cathedral in Belgrade on Saturday. This would be "peaceful protest in the center of Belgrade against satanic terrorizing and humiliating of  the whole Serb people", the organization added alluding to Pride parade. "Convocation" said it would set "guards" before the buildings of the government and parliament in order to prevent a possible secret "night parade".
If the Pride parade is held on September 28 (Sunday), Serbian football association will postpone the matches planned on that day, the head of the league Vladimir Bulatovic said, Beta news agency reported today.
According to police sources, the bikers from the "Angels of Hell" and football hooligans are the most serious security threat regarding the Pride parade.