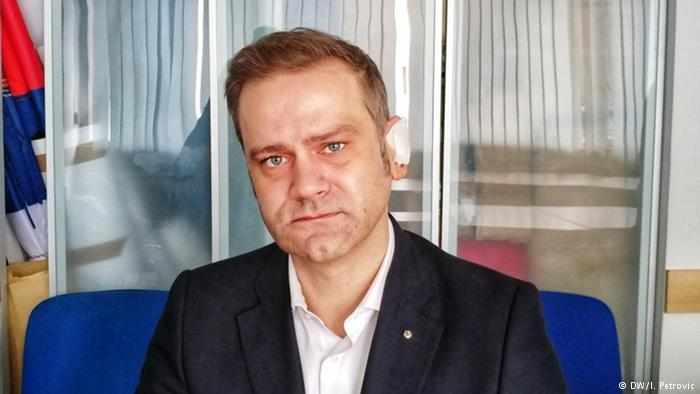 The three men suspected for the attack on Serbian opposition politician Borko Stefanovic are freed, investigative website KRIK learned today. The one month long detention has been suspended on Friday, according to the local prosecution's office.
Borko Stefanovic, leader of the Serbian Left, was attacked in Krusevac, central Serbia, in the end of November. While the opposition accused the government for the attack and subsequently organized protests in Belgrade and other cities, officials have praised the work of the police and the swift imprisonment of those suspected.
Danijel Gmijovic Cafta, Marko Zivkovic Buvac and Milos Saponjić Sapa have been arrested immediately after the attack. The prosecution stated that they have been released due to the "cessation of the reasons which have led to their detention".
However, the prosecution did not specify these reasons. Gmijovic, Zivkovic and Saponjic are suspected for violent behavior which has caused serious bodily injury. They could be sentenced between two and 10 years in prison for this crime.
According to KRIK, their names had not been revealed publicly until Stefanovic did it earlier this month. Stefanovic has said that the government was hiding the names of the perpetrators in order to protect them.
The suspects have denied their involvement in the attack which occurred near the premises where the opposition was holding a public debate.
They claimed that they have appeared at the scene "by accident". Gmijovic, Zivkovic and Saponjic have been, according to their own words, just walking down the street and were unaware of the ongoing political manifestation.
Local businessmen Goran Makragic gave his testimony on the case last week. Makragic rebuffed Stefanovic's claims that he has business links with those suspected, alleging that he just knows them. According to KRIK, Makragic is close to "controversial businessmen" from Kosovo – Zvonko Veselinovic and Milan Radoicic. Authorities in Kosovo investigate Veselinovic's alleged role in the murder of Serbian politician Oliver Ivanovic who was killed in January.
All suspects for the attack against Stefanovic have a criminal history./IBNA