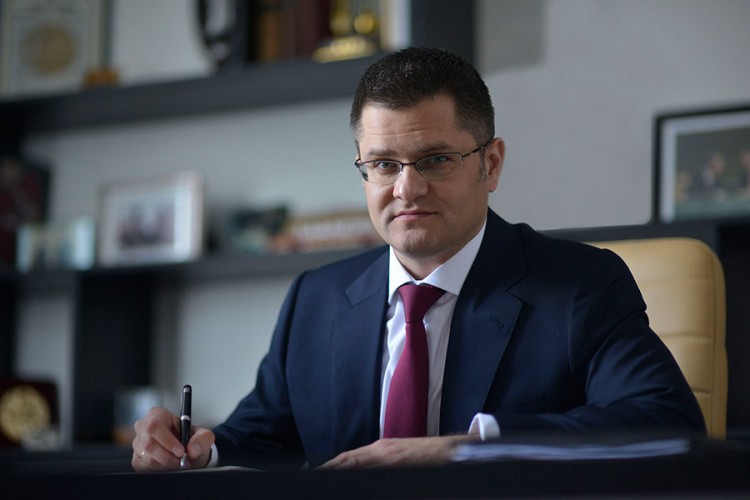 Serbian President Aleksandar Vucic must be prevented to accept a demarcation agreement that would mean "recognizing a self-declared Kosovo as independent state", said Popular Party (NS) leader Vuk Jeremic (photo).
Jeremic, former foreign minister and ex president of the United Nations General Assembly, told Blic daily that "Kosovo cannot achieve recognition without the signature of Serbia". The current regime in Belgrade, he went on, was however ready to sign such an agreement in order to continue to rule "by unprecedented corruption, violence and cooperation with organized crime".
"It is wrong to believe that we would overthrow him (Vucic) easier and that foreigners would take rid of him if he recognizes Kosovo. On the contrary, in that case foreigners would allow him to do what he wants in Serbia for the next three or four years", Jeremic said. He did not specify who he considers as "foreigners", but he was probably alluding to European Union and the United States.
According to Jeremic, Vucic could lose power only with regards to Kosovo "because that is the only issue in which international community is interested enough".
Jeremic, who has visited Kosovo on Sunday, said that his party was opposed to any kind of conflict, including the frozen one. In his view, before reaching any kind of solution "what is needed is to make the agreement on the normalization of life (in Kosovo)".
Boris Tadic, former Serbian president and Social-Democratic Party leader, has said that "he would never support the solution of those who came to power by promising that they would be servile with regard to Kosovo". Tadic argued that the current government was more interested "in protecting their own interests rather than the national ones"./ibna