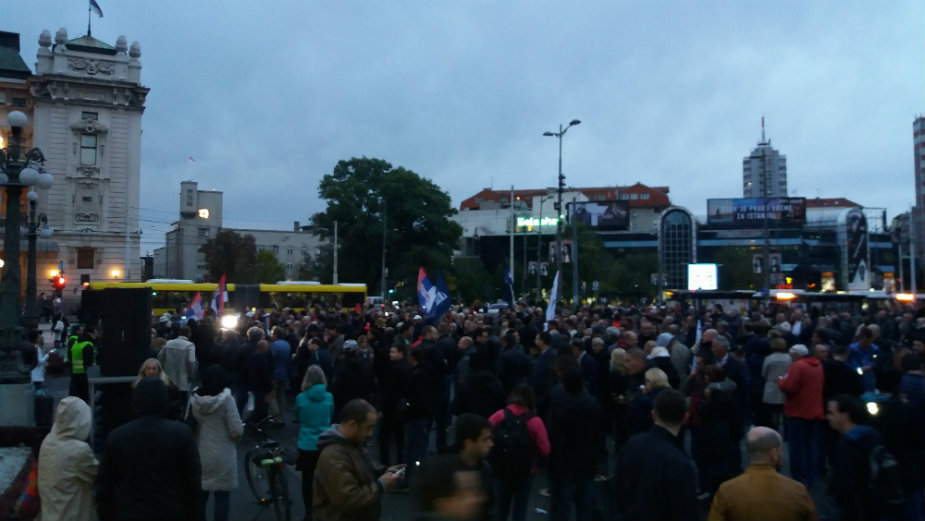 The protest organized by the Movement of Free Citizens (PSG) led by former ombudsman Sasa Jankovic gathered the majority of opposition groups in the main Belgrade's Republic Square on Friday evening. Their central demand directed to government was "creating preconditions for the fair and free elections". According to different estimates, several thousand citizens were present.
The protestors were waiving national and PSG flags; the big banner "Against election fraud", the motto of the rally, dominated above the mass. Besides Jankovic, Boris Tadic, leader of social-democrats, and Vuk Jeremic, head of the initiative committee which is to create Popular Party, were also present.
Tadic is former Serbian president; Jeremic is former foreign minister and ex-president of the United Nations General Assembly. Borko Stefanovic, president of Serbian Left, was also at the rally.
However, none of the political leaders spoke.
Speeches were held by human rights advocate Aida Corovic, filmmaker Janko Baljak, author Gojko Tesic, lawyer Vladimir Gajic, activist Filip Vuksa and actor Sergej Trifunovic.
Baljak appealed to opposition to unite itself stressing that "battle for Belgrade starts today". He alluded to expected local elections. The date of the voting, however, is not defined yet.
"The regime is aware that the fall of Belgrade will be the end of the fairy tale on emperor's new clothes and the start of the fast democratization. Today's sixth October is more than symbolic date; it is our commitment to finish the job that has started 17 years ago", Janko Baljak said.
He alluded to October 5 2000 when president Slobodan Milosevic resigned after mass protests over elections fraud. In Serbian public, "sixth October" is a symbol of unfinished job, a day which never came.
Sergej Trifunovic announced new gathering for October 20; this day is also highly symbolical. On October 20 1944 Belgrade was liberated from Nazi occupation.
The rally was also supported by Democratic Party, movement "Enough is enough", Serbian Left, Civic Movement – "Go Hard" and Initiative Don't Drown Belgrade./IBNA