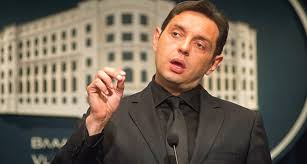 Zoran Zaev, the prime minister-designate in the Former Yugoslav Republic of Macedonia, "jeopardizes the relations between Belgrade and Skopje", foreign minister Ivica Dacic said today. "The assaults that he (Zaev) sends to Serbian leadership would definitely affect bilateral relations", Dacic went on.
"Serbia does not interfere in the internal issues of other countries and Serbia wants good relations with the neighbors, but the statements of Zaev go to other direction. Serbia would certainly doesn't allow to anyone, especially Zaev, to humiliate it;   our relations with the government in Skopje would be reciprocal with theirs relation to Serbia", foreign minister underlined.
At the same time Aleksandar Vulin, minister for labor, veterans and social issues, said that the politicians from Macedonia and other countries in the region "should not look for the excuse for their own problems in Serbia". "Serbia cannot be excuse for anyone's problems, it can only be the factor of stability that could help", Vulin said.
"It is unpleasant to hear ugly words about Serbian prime minister; on the other hand, all statements that come from Serbia are comforting", Vulin claimed.
Earlier today Zaev said that Serbian comments on recent developments in FYROM were "unpleasant". However, Zaev promised that he would strive for good relations with Belgrade. "You see, Vucic (Serbian premier Aleksandar) was leading campaign and almost in his each appearance was talking on some 'Macedonian scenario'. This was unpleasant to hear, at least from my side", Zaev told N1 TV.
Vulin reacted by saying that Vucic's position towards Macedonia would be "maximally friendly, with the hope that Macedonia would be stable". Macedonia passes through "difficult problems", while Serbia "keeps saying truth in good faith, in order the situation in that country (FYROM) to change", Serbian minister stated./IBNA