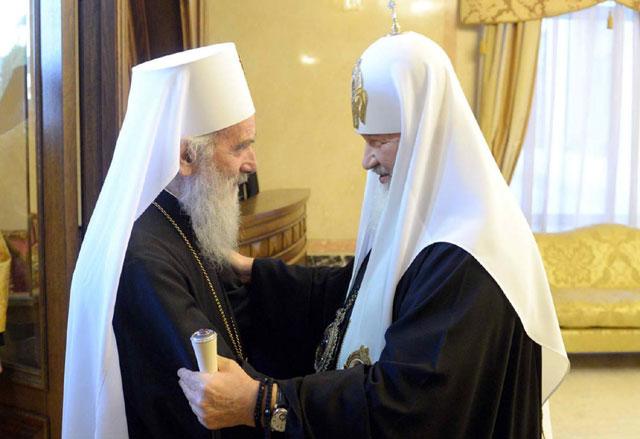 By Miloš Mitrović – Belgrade
Patriarch of Serbian Orthodox Church (SOC) Irinej and patriarch of Russian Orthodox Church (ROC) Kiril II have criticized the policy of the official Belgrade regarding Kosovo and Metohija. Patriarchs Irinej and Kiril II have agreed that Kosovo and Metohija should remain the Autonomous Province of the Republic of Serbia.
On Wednesday during his visit to Moscow patriarch Irinej said that Serbia "should not give up from Kosovo and Metohija because that would mean giving up from the history, culture, spirituality and sanctities", Moscow correspondent of Tanjug news agency reported.
Patriarch Kiril met his Serbian counterpart at the ROC Patriarchy. "Our (Serbian) current leadership is facing the strong influence of the West. Church is doing its best to make it closer to both powerful Russian history and Russian Church", patriarch Irinej said adding that "the voice of Russia is powerful with regard to KiM". "Therefore, I am asking both you (Patriarch Kiril II) and Russian political leadership to help us to resolve this issue in order to Kosovo and Metohija remain the part of Serbia".
Russian Orthodox Church supports the position of the Serbian Church with regard to Kosovo and Metohija, patriarch Kiril II reiterated. Russian patriarch also criticized the political leadership in Belgrade because of its concessions to Priština that had been made by initialing the Brussels agreement in April.
"The failure of Serbian political leadership to follow this (Church) position is deplorable. I believe that Serbian leaders should pay attention to the stances of the Church, rather than ignore them, especially publicly", Kiril II emphasized.
"We absolutely support the just position of the SOC regarding Kosovo and Metohija. We will continue our dialogue with the leadership of Russia, as well as with the representatives of the other countries in this regard", Russian patriarch said.
Serbian Church should participate in creating the solution that should guarantee both the subsistence of the Serbian community and the preservation of the Serbian sanctities in Kosovo and Metohija, patriarch Kiril II rendered.
He said that Russian Church would continue to fund the restoration of the Serbian churches and monasteries in the province.
Serbian patriarch is in his first official visit to Russia since he was enthroned in 2010. During the visit, he will attend the celebrations of 1025 years of the Christianization of Russians. The patriarchs of the orthodox churches will meet the presidents of Russia, Belarus and Ukraine.