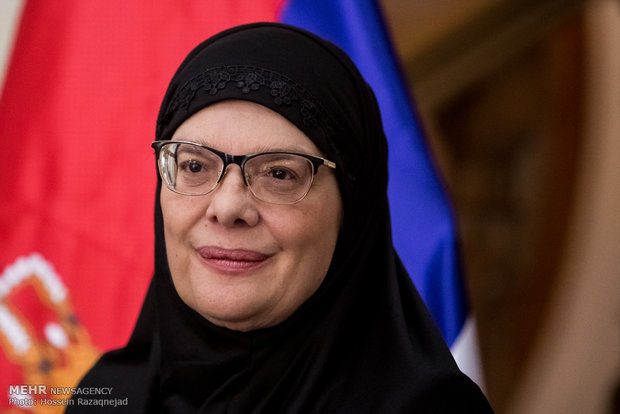 Belgrade, November 24, 2015/Independent Balkan News Agency
By Milos Mitrovic
The fact that the Serbian House Speaker wore a hijab during her visit this week to Tehran has shadowed the issues she discussed with her Iranian hosts, at least in Serbian media and social networks.
According to famous Serbian playwright Biljana Srbljanovic, Maja Gojkovic decided to appear "in one of the most strict" hijab types, which is al-amira. "Does Maja Gojkovic understand what kind of the message she sends while – as the official representative of a secular state in which women are equal – she choose to wear one of the strictest hijab versions (al-amira) and the rest of wardrobe which is very similar to hijab?", Srbljanovic stated at her Facebook account.
She notices that foreign female diplomats are visiting Iran regularly choosing certain wardrobe in order to show their respect to hosts, but avoiding, at the same time, to trample on values of their respective countries. Srbljanovic posted pictures of Catherine Ashton, Federica Mogherini, Julie Bishop and herself in less stricter forms of head covering while visiting Iran. "Nobody makes women to be more conservative than imams, especially when they are official guests. When Gojkovic decided to do so on her own, she offended all Iranian women which are fighting for their rights as well as all of us who don't want to give up our equality", Srbljanovic concluded.
Actress and producer Bojana Maljevic stated at her Twitter account: "To take the strictest possible hijab during the visit to Iran means: I have no idea about anything, despite being a woman and speaker of Serbian Parliament".
"President of Serbian Parliament, Maja Gojkovic, in hijab, during her official visit to Tehran. Quite unbelievable", professor at Faculty of Political Science in Zagreb Dejan Jovic posted on Twitter with the attached picture of Gojkovic in Iran.