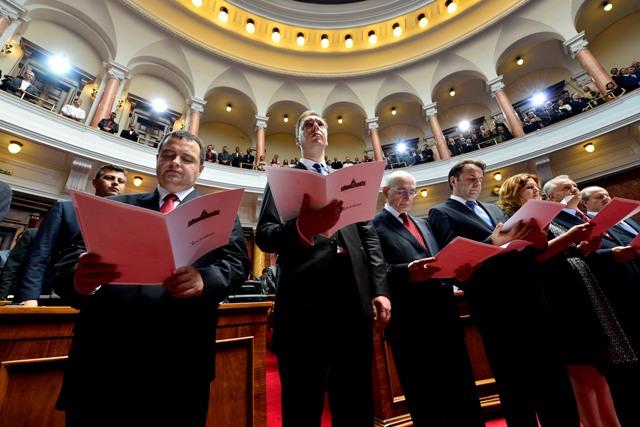 By Miloš Mitrović – Belgrade
The reshuffle of the Serbian government would be finished until the end of July, Deputy Prime Minister Aleksandar Vučić said on Friday. "There will be no delays any more", Vučić stressed, adding that he "will not take the position of the prime minister without elections". In 2012 elections Vučić`s Serbian Progressive Party (SNS) won the majority in the Parliament. However, the leader of the Socialist Party of Serbia Ivica Dačić became the Prime Minister, as it was stipulated in the coalition agreement.
"I will not gain the position of the prime minister by calculations and political games, that is for sure. Only the elections could lead to such an solution, but I don't think that the elections are the priority of Serbia at this moment", Vučić said.
"The reshuffle of the government will be finished. Until the end of next week, all decisions will be made. At the latest in the end of July this process will be ended in the Parliament. There will be no delays any more, everything should be done now, swiftly and efficiently", Vučić told Tanjug news agency.
Deputy PM specified that all the relevant members of the ruling coalition had been responsible for the course of the government reshuffle up to this moment.
Vučić said, "people which would bring the changes, animation and the new energy are needed so that we could ensure both more responsibility and seriousness". "Nobody should be tied for his position, because we were elected to serve our nation and citizens".
Vesna Pešić, sociologist and the leader of Serbian opposition during the authoritarian rule of Slobodan Milošević in 1990s, sharply criticized the reshuffling strategy of Vučić in her article published in "Danas" daily on Friday. Among other things, she said, "it seems that Vučić was born in the armchair", which is the synonym for the authoritarian ruling. During the electoral campaign last year Vesna Pešić animated the part of the citizens to vote for SNS.
Vučić announced that SNS, as well as the other members of the ruling coalition would declare their position with regard to the reshuffling concept, its objectives and the cadres until the July 27th.