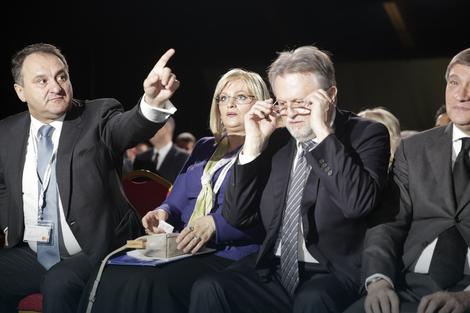 Each year the Serbian government achieves better performance than expected, finance minister Dusan Vujovic said today at the opening of the traditional Kopaonik Business Forum, labeled by local media as "Serbian Davos".
"This year the sustainable growth alongside with the reforms remains the priority. Serbia has overturned the growth dynamics as early as in 2014, we have acceleration and we are going beyond what has been projecting", Vujovic claimed.
The minister recalled that International Monetary Fund (IMF) was among the first international institutions that supported the Serbian government's plans starting from democratic changes in the year 2000.
Vujovic admitted that the pensions and salaries in the public domain are "drastically low", but added, according to accounts: "We cannot afford more than the Bulgarians". "This year the pensions will remain subsidized from the budget with 220 billion dinars (1 euro=124 dinars)", he said refraining from further comments.
The government hopes that this year economic growth will reach 3.5% of the GDP, and 4.5% in 2018, Dusan Vujovic said.
Central Bank governor Jorgovanka Tabakovic has stressed stability as the "key word for all actors in economic, public and political life".
"We don't want to be unprotected from foreign influences and public debt will be secured from fluctuations", Tabakovic said. In her words, inflation remained "low and stable" in 2016, around 1%. "In 2017 it remains in the limits of what has been expected and I believe this trend will be preserved", Tabakovic added.
Aleksandar Vlahovic, the president of the Union of Serbian economists, said that the government has achieved positive results with reference to fiscal consolidation in 2017. At the same time, Vlahovic stressed that the planned progress considering structural reforms has not been fulfilled. "The big public enterprises have not been restructured, the privatization of the state-owned firms is not completed", he said./IBNA
Photo: Aleksandar Vlahovic (left), Jorgovanka Tabakovic, Dusan Vujovic