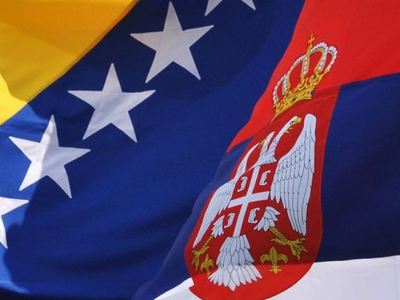 Sarajevo, November 3, 2015/Independent Balkan News Agency
Ministers from the Government of Serbia have arrived in Sarajevo, where on Wednesday they will hold a joint session with ministers of the BiH Council of Ministers.
It was planned that the Serbian delegation arrives on the Sarajevo international airport at Thursday afternoon. As it was expected, security measures in BiH capital were on high level before the arrival of the delegation led by PM Aleksandar Vucic. During his previous visit to BiH, in Srebrenica last summer, he was attacked with stones and his bodyguards had to pull him from the crowd. Investigation in this case is still ongoing. The organisers of Wednesday's joint meeting of the two government didn't want to take any chances and raised security on the higher level.
Ministers from Serbia will arrive in hotel downtown and then they will have an evening reception organized by BiH Council of ministers chairman, Denis Zvizdic.
The session is scheduled for 10 AM on Wednesday and the ministers will discuss the improvement of economic relations, better cooperation in the fields of sustainable development and environmental protection, and cooperation in the field of military industry, youth and sport.
"In institutional terms, it is about cooperation between the two countries which are clearly committed to enter European integrations in the future. In this sense, there are a number of issues in which we can provide support to each other in order to realise all the obligations on the way to EU integration", Zvizdić said.
It is expected that ministers from two countries, at the end of the session, will sign four important documents in order to improve the cooperation in the future.
BiH Ambassador in Serbia, Lazar Mirkić, said that the joint session is a very important event, because it will send a good message. He added that this will be the most significant event in the region.
"Thereafter, we can begin the implementation of projects and answer the open questions which two states still have. Among them are search for missing persons, border issues, succession of former Yugoslavia state property and assets of BiH companies and citizens in Serbia, and vice versa, Mirkić added.
BiH Minister of foreign affairs, Igor Crnadak, had said earlier that this session and visit of Serbian ministers to Sarajevo will be a strong message to internal BiH relations. As he said, it will show that BiH and Serbia can cooperate in many issues which are of mutual concern.