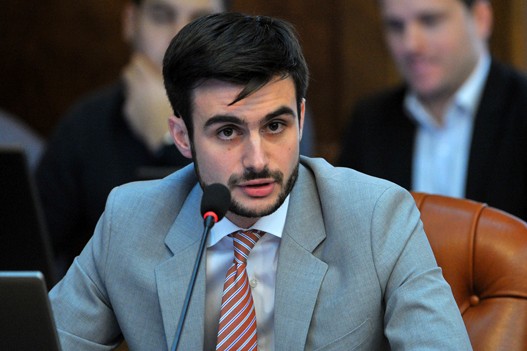 By Miloš Mitrović – Belgrade
Serbian Finance Minister Lazar Krstić announced six economic measures to address public savings, fiscal stability and to promote growth as well. Wages in the public domain are to be reduced, and lower VAT for "non-existential" products would be raised to 10 percents from 8, Krstić explained on Tuesday. Public enterprises restructuring, as well as cutting subventions, borrowing favorable credits and improving business conditions should also contribute to governments objectives.
Krstić specified that, according to governments assessments, budget revenues in 2013 would be RSD 20 billion (approximately EUR 50 million) lower than it has been planned by budget amending. "We have to reduce the spending for that amount", Krstić said adding that "in November we will know the results".
International Monetary Fund (IMF) mission in Serbia has stressed, Krstić mentioned, that there were "additional risks with regard to the budget revenues". In that sense, Finance Minister rendered that economic and fiscal policy in Serbia conducted by the previous government from 2008 to 2012 "was irresponsible and nontransparent".
"When similarly developed countries public debt goes beyond the GDP 42 percent they are facing bankruptcy. On the other hand, inappropriate spending is a problem, rather than borrowing", Krstić said. "Since 2009 Serbia is making chronic deficit and it is the only Eastern-European country that failed to reduce it".
"At this moment, 28 percents of the budget revenues goes to pensions, 27 percent to public sector's wages; the subventions amount is unclear", Krstić said.
Public sector wages reductions would start in the beginning of 2014; government expects this measure would save around EUR 100 to 150 millions (GDP 0.3 percent), dependent on assessed number of employees in the public administration. Wages higher than RSD 60,000 (EUR 520) would be cut for 20 percents; wages higher than RSD 100,000 (EUR 870) would be reduced for 25 percents.
With regard to taxation, lower VAT for "non-existential" products would be raised from 8 to 10 percents; at the same time some products and services could be shifted into higher VAT category taxed at 20 percents. The VAT increase would raise the consumer basket to dinars 65,450 from the current 65,000, Krstić said.
Božidar Đelić, Former Serbian Finance Minister who is now opposition Democratic Party's MP, said that measures proclaimed by the government represent "the blunt knives, and scalpels are next". Đelić told RTV B92 that "neither country has been so much indebted since the World War II". "Year and a half ago Serbia was not on the edge of bankruptcy; now it is, due to the current government which is indebtedness champion". According to Đelić, government imposes austerity in order to borrow some more money". He said that Serbia borrowed EUR 6 billion since  April 2012.