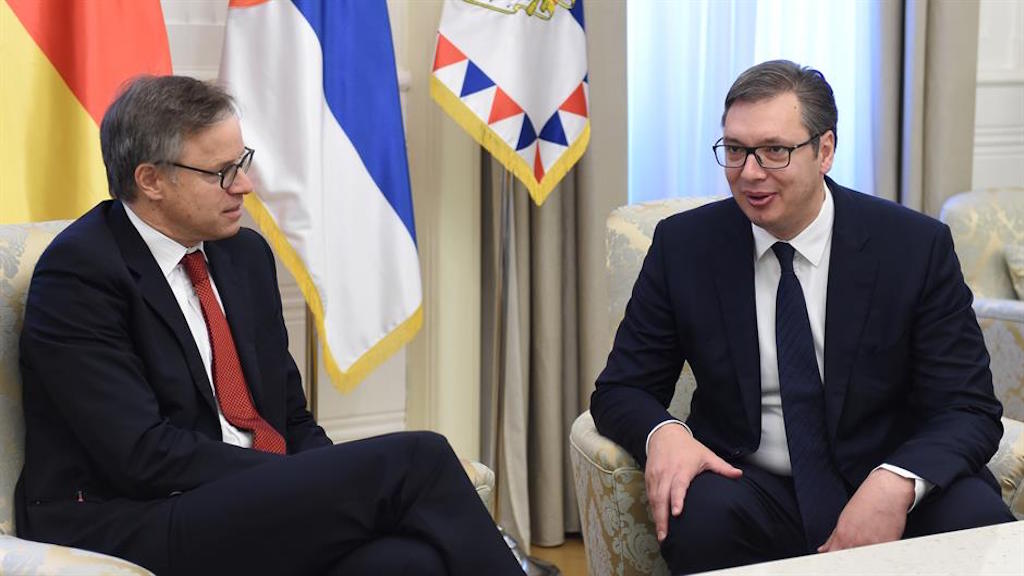 The relations between Germany and Serbia are now better than ever – according to president Aleksandar Vucic and the German ambassador to Serbia, Axel Dittmann. Vucic received Ditmann to honour him ahead of his departure from the post.
Serbia's President thanked the diplomat for the "good co-operation and his committed work". Due to his diplomatic experience, Dittmann has contributed to the improvement of the bilateral relations, Vucic said, according to his cabinet's press release.
The links between Berlin and Belgrade are the "best in history" and are characterised by high level of mutual confidence, Dittmann and Vucic agreed. The significant number of visits of Serbian officials to Germany and vice versa, during the German ambassador's term of office are a tangible example of the current state of their countries bilateral relations, they said.
The president underlined that the economic co-operation is being expanded; Vucic believes, as he said, that the increased number of German investors reflects the changed image of Serbia and its improved reputation in Germany.
Vucic thanked German companies for providing jobs to nearly 50,000 people in Serbia. He expressed his hope that their experience would incite even bigger interest for investments in Serbia.
Dittmann said that he was honoured to represent Germany in Serbia; he thanked Vucic for his and the Serbian government's support during his tenure.
Germany firmly supports Serbia's European path and the policy of regional stability, Dittmann noted, adding that the improvements of the rule of law in the Western Balkan state would be especially important for the country's EU membership.
Vucic put emphasis on the Berlin Process, initiated by German chancellor, Angela Merkel, pointing out its importance for peace and stability in the Western Balkans.
Serbia is committed to reaching a compromise over the Kosovo and Metohija issue, in order to secure a "peaceful future of our country and the whole region", the president stressed; at the same time, such a solution should protect Serbia's "state and national interests", Vucic added… /
IBNA
Main Photo: Serbian president Aleksandar Vucic (R) with the outgoing German ambassador to Serbia, Axel Dittmann (L)