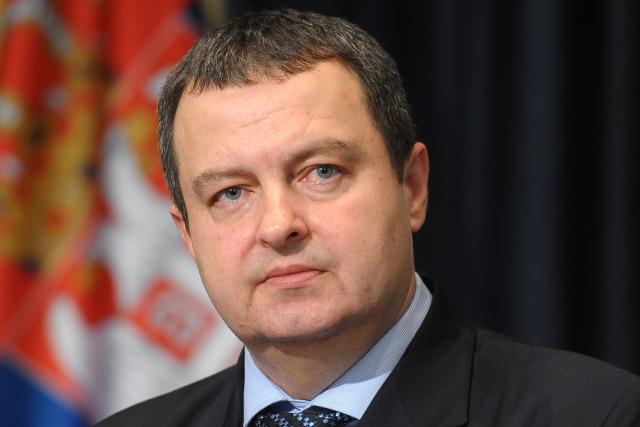 Belgrade, May 6, 2015/ Independent Balkan News Agency
By Milos Mitrovic
Serbian Foreign Minister Ivica Dacic and national military orchestra will represent Serbia at the manifestations in Kiev on Friday. Ukraine will organize parade on its Day of remembrance and reconciliation, to honor the victims of the Second World War. Serbian ambassador to Ukraine Rade Bulatovic will also attend the event.
Danas newspaper revealed today that the Serbian military orchestra will march at Kiev streets and play several pieces; government sources also confirmed that Dacic, who is OSCE chairman, would be present. On Saturday, Serbian President Tomislav Nikolic will attend military parade in Moscow which will mark the 70th anniversary of the defeat of Nazi Germany (Victory day). At the marches which will be largely boycotted by the West due to its conflict with Russia over Ukraine, Serbian military will also take part. In that sense, Dacic's visit to Kiev could be another indicator of balancing between West and Russia in Serbian foreign policy.
European Union's commissioner for enlargement Johannes Hahn who will visit Belgrade tomorrow, said that Serbia's presence at the Moscow parade "may look like abandonment of loyalty to European values", which "is not a move to the right direction".
Earlier this year, Evgenya Filipenko, chargé d'affaires of the Ukraine's embassy in Serbia, said that Kiev has invited Serbian leaders and military orchestra to take part in Friday's manifestations. "We think that this would be a good sign that Serbia still remembers our common role in the Second World War when Ukrainian soldiers alongside with Serbian fighters were liberating both Serbian and Ukrainian towns".
Last week Russian Foreign Minister Sergey Lavrov appealed to Dacic, as OSCE chairman, to demand from Ukraine "not to violate the Minsk agreement" regarding the cease-fire. Serbian Foreign Ministry subsequently stated that "all sides should comply with the obligations they have taken", in order for a peaceful solution to be found.