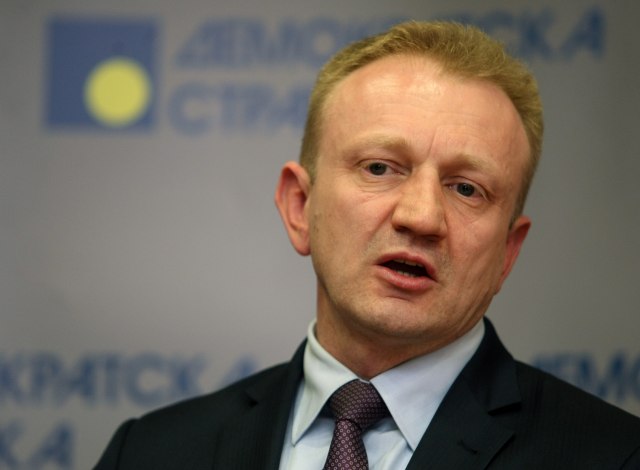 By Miloš Mitrović – Belgrade
Democratic Party (DS) leader Dragan Đilas excluded the possibility of creating the coalition with Serbian Progressive Party (SNS) after the next general elections. DS, which is the main opposition party, have suggested political agreement rather than forming the coalition with the ruling Progressives six months ago, Đilas emphasized in the interview with the "Nedeljnik" weekly.
This political agreement would cover the main political issues, but SNS responded with "offenses and lies", Đilas said. He announced that the Democrats would probably demand the engagement of  OSCE and EU observers in the elections, either local or general ones. "The atmosphere during the local elections was not democratic one and it reminded us to the period we thought was ended long time ago", Đilas said alluding to recent polls in Vrbas municipality.
SNS won the majority at the Vrbas voting. However, DS complained that SNS activists have beaten their members. On Wednesday, European Commission (EC) expressed its concern over the "media campaigns against the opposition". EC report on Serbian progress towards the EU accession also stated its concerns with regard to "arresting announcements" in Serbian tabloids. Earlier this month, former Novi Sad mayor Borislav Novaković, which is DS official, has been arrested due to alleged embezzlement. DS considers the arresting as "politically motivated".
According to Đilas, SNS "did not accepted European values honestly" and its coalition partners Socialist Party of Serbia (SPS) and Party of United Pensioners of Serbia (PUPS) "do not protect any social rights". "PUPS has gave its consent 13th pension to be abolished", Democrats leader stressed.
Đilas admitted that DS shares the responsibility for the current social-political situation in Serbia, given the fact it has been ruling party for eight years (2004 – 2012). Nonetheless, he recalled that SPS and SNS, former radical nationalists, "lead Serbia into wars and madness" which has caused "lost lives and devastated" country.
In September, Dragan Đials was ousted from the post of the Belgrade's mayor, after SNS succeeded to form new coalition in the City Assembly. The early elections in Belgrade will be held in the first half of 2014.