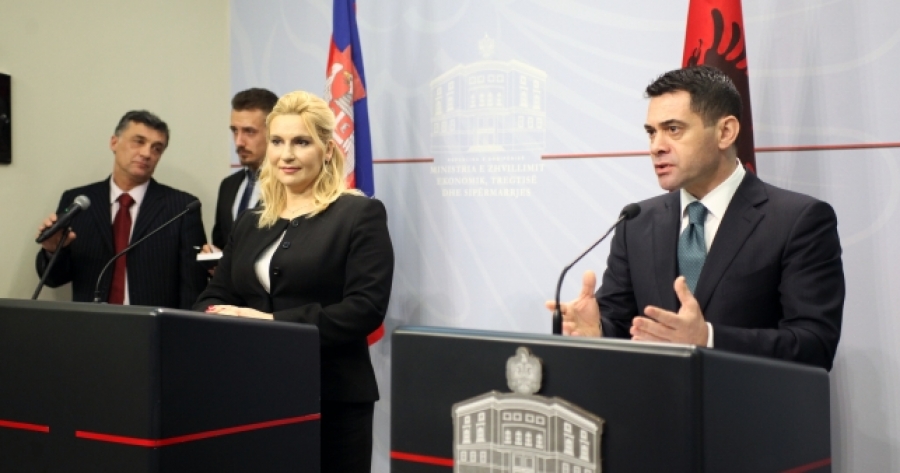 Belgrade, February 5, 2015/ Independent Balkan News Agency
By Milos Mitrovic
Serbian vice Prime Minister Zorana Mihajlovic and Albanian Minister for Economic Development, Trade and Entrepreneurship Arben Ahmetaj have discussed regional infrastructure projects today in Tirana. This was the first bilateral meeting of the officials of the two countries in Tirana in 23 years, the Serbian Government stated.
Today's meeting marked the further cooperation which was initiated on the Western Balkan summit in Berlin last August. At the time, Serbian Prime Minister Aleksandar Vucic has proposed to his Albanian counterpart Edi Rama projects of mutual interest, the government recalled.
"Serbia and Albania are partners in infrastructure projects realisation", Zorana Mihajlovic, who is also Construction, Transport and Infrastructure Minister, said at the media conference in Tirana, FoNet news agency reported. She added that the two countries would jointly seek the support for the projects from the European Union, as it was agreed in Berlin.
The essential objective of the project is the strengthening the economy in the region through mutual cooperation, Mihajlovic explained.
Following the meeting, it was announced that Serbia and Albania have created a joint work group which would formulate "the draft for the document on cooperation" until April 1. The document has been agreed in principle by the prime ministers of two countries at the Berlin conference.
Constructing the Nis-Pristina-Tirana highway with the perspective of connecting it with Albanian ports is among the projects, as well as constructing Belgrade-Montenegro highway Corridor 11, which should be linked to Adriatic-Ionian motorway, Mihajlovic said.
She added that Belgrade-Bar railroad reconstruction is also included in mutual projects. The plan is to connect the railway with Albanian harbors.
Minister Ahmetaj said that the projects would be in the interest of both countries and underlined that the Berlin summit was crucial in their initiating.
According to Albanian media, minister Mihajlovic expressed the solidarity of Serbia to her Albanian homologue over the current floods in Albania.