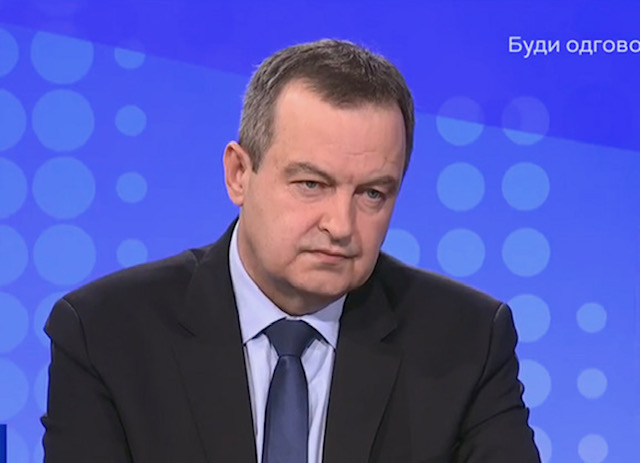 The role of international organizations in tackling the pandemic was commented on by the Serbian Foreign Minister, who said they did not meet the challenges posed by the health crisis.
In a televised interview, the Serbian minister noted that international organizations did not respond in the best possible way, noting that the UN Security Council held a single session on the issue where member states failed to agree on a joint statement on the world's largest crisis after World War II.
"The United States has demanded that the People's Republic of China be considered the country of origin of the pandemic. On the other hand, the EU did not have a clear approach at the beginning, but now it has guidelines and instructions, but it still does not have clear rules at all levels on how and what the conditions of this pandemic are", said the head of Serbian diplomacy.
Commenting on the verbal clash between the United States and the People's Republic of China over the pandemic, Dačić said he does not foresee the creation of a new geopolitical order, but stressed that there would be a transfer of power from the West to the East.
"China will have a total increase of 10% next year, while the United States will reach, according to forecasts, minus one percent", Dačić explained, adding that GDP is expected to fall by 3 percent next year, which is the largest decline since the Great Depression in 1929.
As he said, the pandemic showed that in addition to globalization, these issues need to be reconsidered at the national level and in the sense of protecting national security.
"This pandemic has shown that only well-organized public health systems can provide answers. As for the public interest, private companies have the logic of their business, and that is profit, while the role of the state is different", Dačić explained, noting that the mortality rate in Serbia is about two percent, while in the UK it has reached 15 percent.
At present, according to Dačić, it is very important that the WHO and the international community do not make the same mistake as the one with swine flu, with the result that few people are vaccinated because of mistrust.
"We support the creation of a safe and effective vaccine, but we must avoid what happened with the swine flu, when about 4.9 billion vaccines had been produced and in the end only about 150,000 were vaccinated", Dacic said.
He also noted the importance of how society works in times of crisis and said that Serbia is coming out of this crisis with the least possible damage to health care, to the economy, and that a 5-6% increase is expected next year.
"We have to change our attitude towards the earth and the planet, because we created a planet that allowed the creation of a coronavirus. Good organization, trust in doctors and the state system are important", Dačić concluded./ibna