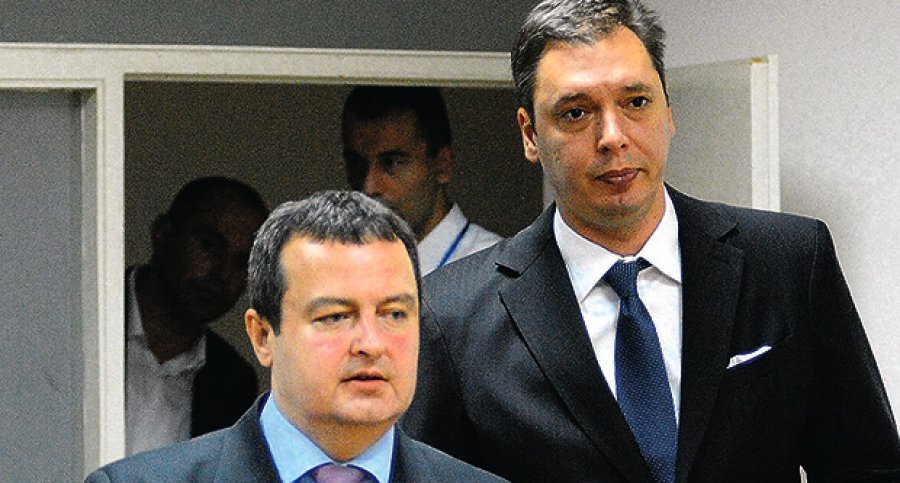 By Milos Mitrovic – Belgrade
Serbia will not impose sanctions against Russia and a peaceful solution for Ukraine crisis has no alternative, Serbian prime minister Aleksandar Vucic said in the interview for Russia 24 television. Foreign minister Ivica Dacic explained that Serbia did not join European Union's embargo against Russia because it would have been contrary to Serbian economic interests.
"Serbia did not impose any sanctions against Russia and it will not do it now. It is absolutely clear: in this very difficult period Serbia has confirmed to its Russian partners that it is their best friend in the Europe", Vucic told Russian TV.
Speaking partly in Russian and partly in Serbian, Vucic underlined that Serbian position was "very clear" and that mutual projects are before Serbia and Russia. "We will continue to develop them (projects) together".
"Serbia has signed the agreement on South Stream constructing, and that's it. We discussed this with both, our European partners and our Russian partners. This is very important project in energy sector for Serbia and we don't change our position depending on the political situation in the world", Vucic stressed.
Considering Ukraine crisis, PM said that "peaceful solution has no alternative". "Those who believe otherwise are gravely mistaken. Nobody deserves to lose his life and Slavic brothers should not kill each other", Vucic concluded.
Foreign minister Ivica Dacic reiterated that Serbian support to Ukraine's territorial integrity was "beyond doubt", but the country did not join EU sanctions against Russia due to its economic interests. He added, however, that Serbia also does not support Russian sanction against the EU.
After meeting with his Canadian counterpart John Baird in Belgrade, Dacic announced that the solution for Ukraine crisis via dialogue would be the priority of Serbian presidency of OSCE in 2015. Baird said he was "glad that Serbia does not support illegal Russian occupation and aggression" against the parts of Ukraine.
"NATO summit in Wales this week will be very important. The developments in the east of Ukraine in recent weeks have been very provocative and NATO will probably emphasize the need for strengthening the relations with its partners in Eastern Europe", Baird said.