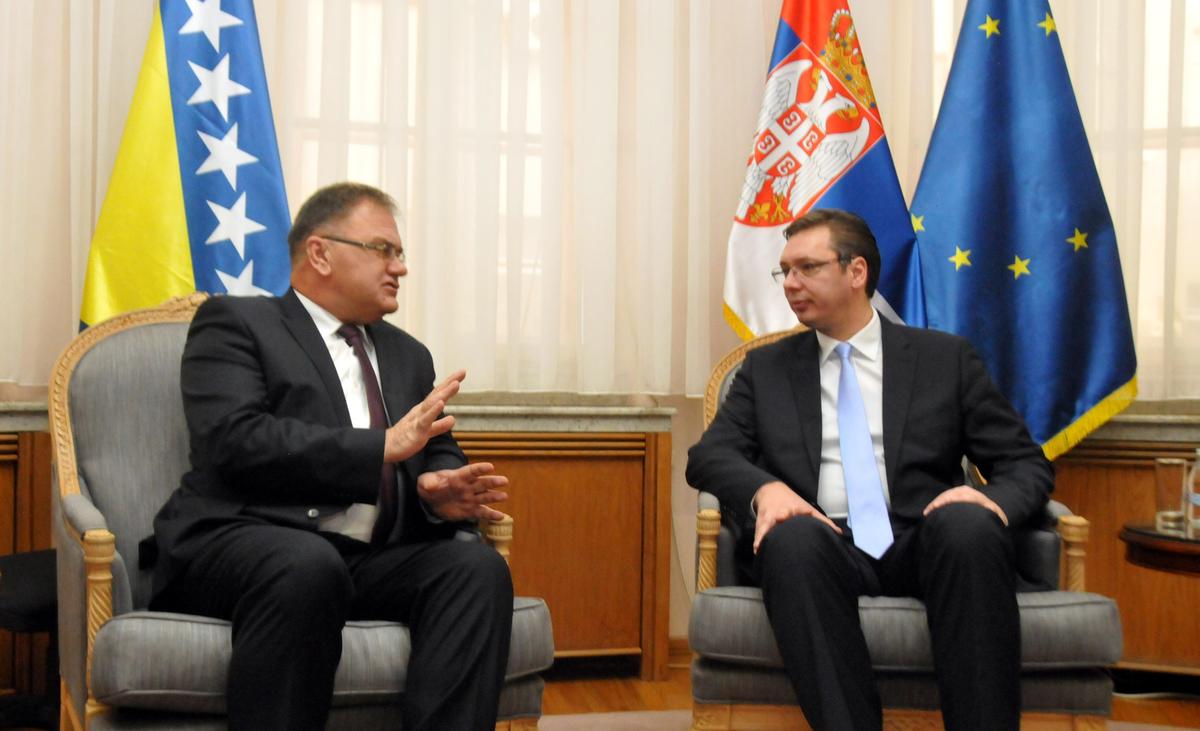 President Aleksandar Vucic and the Serb member of the Bosnia and Herzegovina Presidency Mladen Ivanic have discussed bilateral relations and the "situation in the region" at a meeting in Belgrade today.
According to Vucic's cabinet press release, the Serbian president said that his country will always respect Dayton peace agreement and the "mutually expressed will of the three constitutive peoples in Bosnia and Herzegovina – Serbs, Bosniaks and Croats".
Vucic said that Serbia strives for further improving the political and economic ties between two countries. "Good-neighbourly relations are vital for the Serb people in the Republic of Srpska and Bosnia, but also for the Bosniaks and Croats in that country and the stability in the region", he underlined.
Ivanic and Vucic have tackled "possible mutual economic projects and other forms of bilateral co-operation"; better relations are in the interest of both countries especially in the field of economy, Ivanic said.
When asked if he and Vucic have discussed open bilateral questions and the migrant issue, Ivanic responded negatively. "We didn't talk about migrants. The most of people who have arrived in the country (Bosnia) have left in the meantime", he said, concluding that migrants do not see Bosnia as their desired final destination.
According to Ivanic, "abuses of the migrant crisis such as terrorism should not be underestimated"; "the key point is tougher control of the border".
Considering the planned construction of the Belgrade-Sarajevo highway, Ivanic said that Turkey, as the "country which is the most engaged in the project" should propose its financial scheme. Ivanic expects this to be presented "by autumn".
When it comes to the political situation in Bosnia, Ivanic said that international institutions in the country "sometimes make mistakes" by siding with particular local politicians. "Neutrality of the international institutions is the key for stability in Bosnia and Herzegovina", Ivanic emphasised…. / IBNA
Main Photo: Mladen Ivanic (L) with Aleksandar Vucic (R)