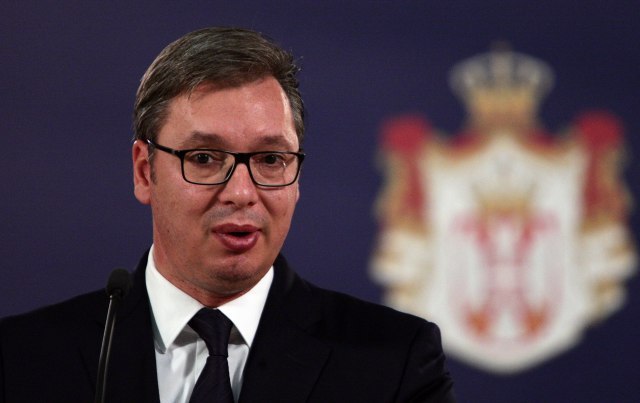 Serbian President Aleksandar Vucic issued a communication informing the citizens of the country on the current situation around coronavirus.
He announced the establishment of two committees by the Serbian government, one of which with the purpose of addressing the coronavirus epidemic, while the other one will minimize the impact on the economy, while granting a 10% increase for all health care workers and one-off aid of 4,000 dinars for retirees.
Vucic stressed that we can overcome today's difficult situation only if we remain united and in solidarity.
"We have been preparing over the previous years. We have invested a lot of money and we are better prepared to face these challenges than most countries. We, unlike other small countries, are carrying out trials. We get results, less serious. We are facing a big and difficult crisis and things will not be easy in the days and weeks to come", Vucic said.
Vucic also said that there would be more cases of infection and more patients, and we would definitely lose more people, as was the case with the seasonal flu.
The Serbian President pointed out that there are two battles against coronavirus that need to be won, arguing that it was more important to listen to the professionals instead of the politicians and the media.
This is a fight to preserve the health of our people and especially the elderly who are the most vulnerable; who are also the most disciplined and responsible, but who are nonetheless affected by coronavirus faster and sadly more effectively", said Vucic.
He stressed, therefore, that it was important to adapt all necessary measures to what the professionals had to say instead of listening to the politicians or the media.
As he announced on Friday, there are going to be three hospitals that will be responsible for the treatment of coronavirus.
"The Infectious Diseases Clinic in Belgrade starting tomorrow will be the only one treating coronavirus patients. The Clinic Centers in Novi Sad and Nis will also operate as reference centers", Vucic added.
He also informed that the state facilities had enough capacity, beds and every other necessity.
"The army has food that can feed 100 thousand people, and our army is smaller than that", Vucic explained. "All stocks in the event of a war or peace are packaged. As a country we handled the domestic market better than many countries in the EU", the Serbian President added.
He continued that Serbia was not able to avoid the crisis as it constituted a global accident, but yet we were more successful in protecting citizens with the help of professionals.
"It's important that people who haven't bought half a kilo of flour so far are not out buying 20 kilos of flour.
"Just don't save supplies which you will have to throw away later. Personally, I will be at the forefront of a team that deals with the financial impact", Vucic concluded. /ibna