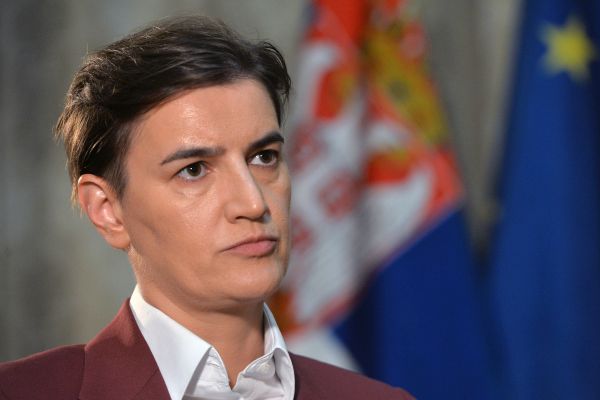 In an interview with TV Prva, Serbian Prime Minister Ana Brnabić said she was not ashamed to form the new cabinet with President Aleksandar Vucic, but was proud of it and said they were working with Vucic as a team.
According to Brnabić, there is no problem with vanity, nor with the fact that they call her a "ficus" as Serbia progresses, while wages and pensions are rising and unemployment is falling.
She stressed that Serbia is emerging victorious in the Economy, despite the crisis caused by the coronavirus pandemic.
"No matter what people call me, it is important that we move forward", Brnabić said.
When asked how capable the new ministers are, Brnabić said she is very satisfied, that there was no time to lose and the ministers facing great challenges will get to work immediately.
"They are doing well", Brnabić said, adding that "everyone is working together to implement the priorities it appears they have to be completed in the first 100 days of the new government".
She also stressed that, a few days ago, along with the ministers she had ratified all projects that should be continued and those that should start in 2021, and which, as she stated, are important for the improvement of citizens' life quality.
"We have ambitious goals for GDP growth. It is absolutely certain that we will close 2020 as the most successful country in Europe, because we will have the smallest recession", Brnabić said.
She also said that the whole government is working in groups, that the GDP Council meets every three weeks, that each project is managed in detail and that, in this sense, there is excellent cooperation with the Ministry of Finance, which she stressed is extremely efficient and fast in redistributing project funds.
She underlined that she maintained excellent cooperation with President Aleksandar Vučić and they were working as a team.
Furthermore, she stated that Vučić can see the bigger picture in relation to the ministers, pointing out that in the government things can be done faster and better.
"This gives us an advantage over most countries in the region and in Europe", Brnabić said, adding that Vučić is a world-class politician she would always consult and listen to.
Brnabic clarified that she would be interested in Vučić's opinion even if he were not the President, and the country should be proud of his knowledge.
The Serbian Prime Minister noted that Serbia is ready to continue the dialogue with Pristina at the highest level, stating that it depends on Brussels when this will happen, recalling that talks at technical level continue.
"We are ready and that is why we had a thematic cabinet meeting attended by Serbian President Aleksandar Vučić and Serbian Parliament Speaker Ivica Dačić. It is an extremely good scheme, given the challenges we will face in 2021 when it comes to fighting crime, combating the coronavirus pandemic and resolving the Kosovo issue", Brnabić said.
The Prime Minister of Serbia stated that such thematic sessions of the Serbian government will be held once in three months.
The Prime Minister said she was closely monitoring the US presidential election, noting that Serbia would continue to seek to further strengthen relations with the United States, no matter which candidate wins.
Asked what Donald Trump's re-election would signify for Serbia, Brnabić said that the country already maintains very good communication with the Trump team, just as Serbian President Aleksandar Vucic has good communication with him personally.
"Vucic knows Biden well. We have our own direction, we cannot be influenced by what is happening in the United States, but we can influence our attitude towards the United States", said Brnabić.
The Prime Minister also said that the rotation of ministers in the government does not mean that these ministers performed poorly in their ministries, but, as she said, a new look and aura was deemed necessary.
"It was important to reach a new approach", Brnabić said, noting that only five ministers had kept their portfolios.
She added that, through the elections, citizens had stated their satisfactions with the course the country was following, but some changes were nonetheless demanded.
When asked when the last time was she had said "no" to Aleksandar Vucic, Brnabić said they were a team and noted that Serbia's great strength laid in their good relationship.
"I'm proud to be a member of his team", Brnabić said. /ibna