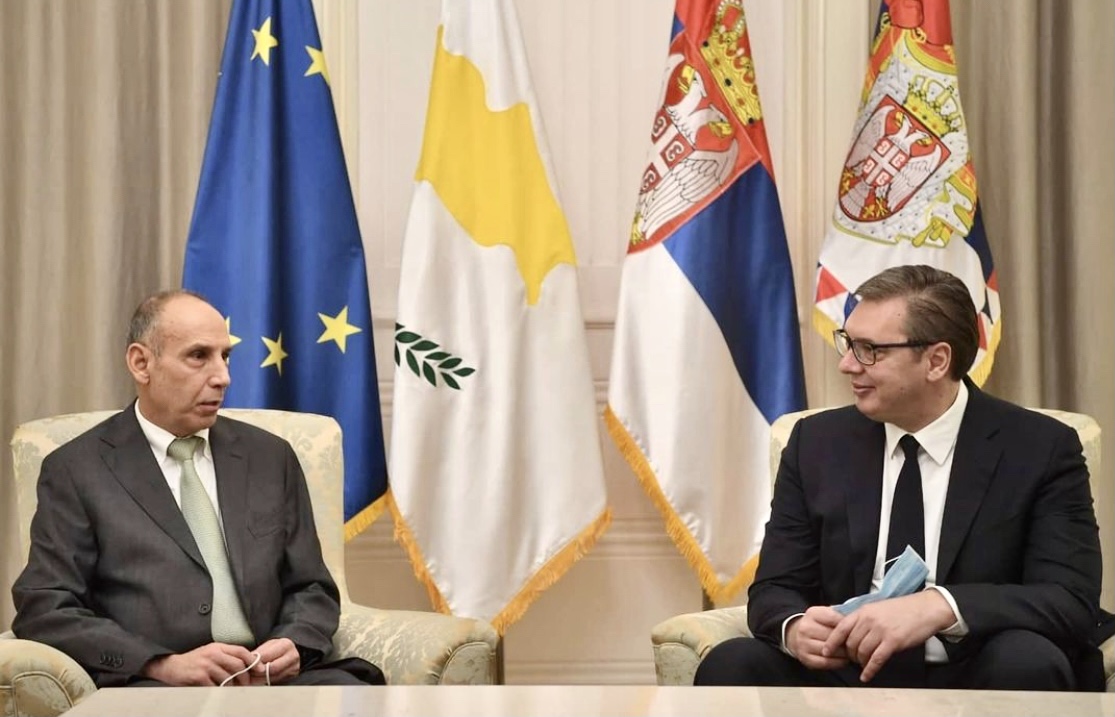 The President of Serbia Aleksandar Vučić received today the Ambassador of Cyprus Konstantinos Iliadis on a farewell visit and thanked him for his diplomatic work that contributed to the strengthening of relations between the two countries, stating that Cyprus is a sincere friend of Serbia.
President Vučić recalled that during the mandate of Ambassador Iliadis, President Anastasiades had visited Serbia and a meeting of the Supreme Cooperation Council between Serbia and Cyprus was held.
He also expressed hope that the conditions will soon allow for a new session of this Council to be held as an opportunity to enrich the Serbo-Cypriot co-operation, the President's Office for Co-operation with the media announced.
President Vučić stressed that Cyprus is a sincere friend who firmly defends international law, thanking it for supporting Serbia's territorial integrity while Serbia supports Cyprus's territorial integrity in the same way.
He also thanked Cyprus for its support to Serbia's EU path.
Ambassador Iliadis briefed President Vučić on developments around the Cyprus issue and challenges in the Eastern Mediterranean.
The two interlocutors agreed that Serbia and Cyprus are committed to finding a solution with respect for international law and that both countries want to contribute to world peace and stability and economic progress by acting in the international political arena.
Ambassador Iliadis thanked Serbia for its participation in the UN peacekeeping mission in Cyprus.
President Vučić asked Ambassador Iliadis to convey his greetings to President Anastasiadis. /ibna