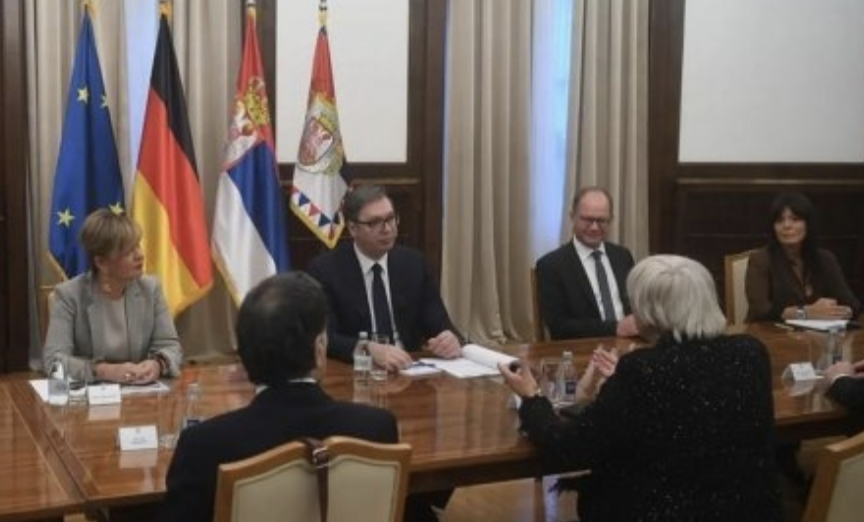 Serbian President Aleksandar Vučić met today with Bundestag Vice President Claudia Roth, with whom he discussed the continuation of political and economic cooperation with Germany, as well as the progress Serbia has made in various fields on the way to full membership in the European Union.
President Vučić thanked Vice President Roth for her visit to Kragujevac today, where she will attend the commemoration of the Day of Remembrance of Serbian victims of World War II and the 80th anniversary of the execution of 3,000 innocent civilians, to whom she will pay tribute to emphasize the importance of common memory.
The Serbian President noted that Serbia is looking to the future, in which some of the priority goals are to improve economic cooperation with the Union, especially with Germany, which is one of the country's main economic partners and one of the largest investors in the Serbian economy, as well as the first foreign trade partner.
The interlocutors said that Serbia has achieved an excellent economic result in recent years, as well as progress in various areas of political and social life, which the European Commission acknowledged in its latest report. President Vučić and Bundestag Vice President Roth agreed that the rule of law and the green agenda is one of the main areas where additional work needs to be done and that Germany is ready to engage more intensively to accelerate the reform process in these areas.
The Vice President of the Bundestag informed President Vučić about the current political situation in Germany after the parliamentary elections and expressed the hope that the participation of the Green Party in the new German government will help to implement the "Green Agenda for the Western Balkans", which was adopted in Sofia last year and for which EU funds have already been allocated. /ibna