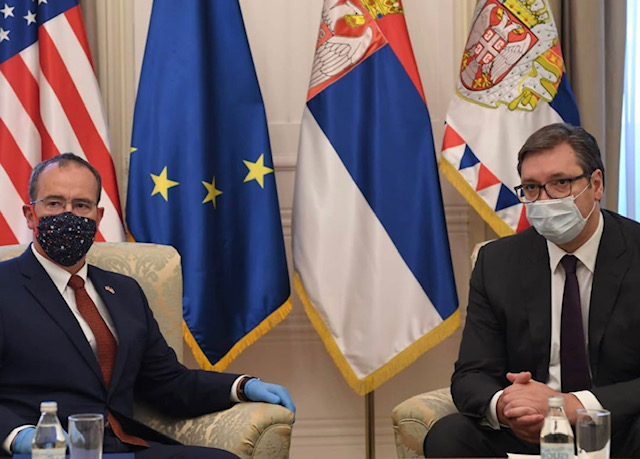 Serbian President Aleksandar Vucic met today with Anthony Godfrey, US Ambassador to Belgrade. The two men discussed co-operation efforts between the two countries in tackling the challenges that arose due to the coronavirus pandemic, measures to revive the Serbian economy and future economic co-operation between the two countries.
President Vucic took to Instagram to post photos of the meeting.
The meeting took place at the Serbian Presidency with Vucic and Godfrey following the hygiene rules and wearing masks.
They both expressed their condolences for the victims of COVID-19 in the United States and Serbia, as well as the hope that the precautionary measures taken will result in the flattening of the curve.
"Friends like Serbia and the United States rely on each other in times of uncertainty, such as the pandemic era", Vucic and Ambassador Godfrey agreed.
On behalf of the US government, Ambassador Godfrey thanked President Vucic and the Serbian government for helping American citizens return to their homes and families, while President Vucic thanked the United States for the aid against COVID-19 it provided to Serbia.
Vucic briefed Ambassador Godfrey on a bundle of measures to revive the Serbian economy from the pandemic, noting that the package was based on the contribution of US companies already operating in the Serbian market, and even more so in future US investments. /ibna