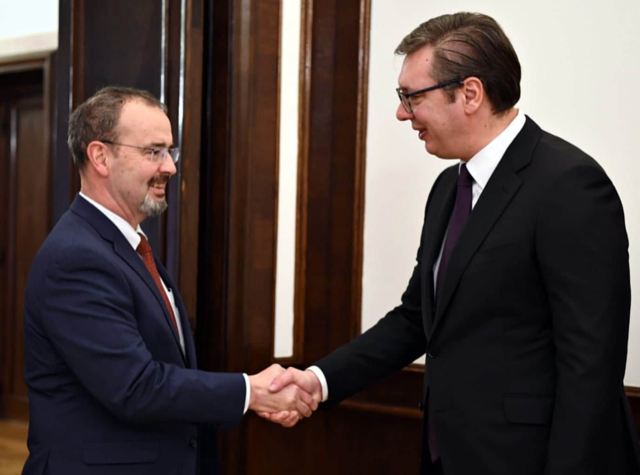 Serbian President Aleksandar Vucic and US Ambassador Anton Godfrey met today to discuss the Belgrade-Pristina dialogue and the US President's proposal regarding the iddle East conflict, while US Ambassador conveyed Donald Trump's wishes for Serbia's National Day.
Vucic thanked for the involvement of the President of Trump and the US government, and in particular the Special Envoy for the Belgrade-Pristina dialogue Ambassador Richard Grenell; he also thanked the Ambassador to Pristina Richard Gren for understanding the dialogue between Belgrade and the people in the region, in terms of improving their living conditions, improving their finances and living infrastructure.
Godfrey briefed President Vucic on President Trump's proposal to settle the Israeli-Palestinian conflict, according to a statement from the President's Press Office.
Vucic said Serbia, as a country which is interested in stability prevailing in the Middle East, welcomes President Trump's efforts and actions to make progress in finding a solution to this long-running dispute.
The president said Serbia was committed to improving relations with both Israel and Palestine and sought a lasting and sustainable solution that would bring stability and progress for everyone.
He said it was up to the Israeli and Palestinian leaders to determine whether President Trump's proposal could meet the expectations of the two nations, and stressed that Serbia as a UN member respected all the UN decisions related to sraeli-Palestinian conflict; it also supported dialogue, while opposing any unilateral action by any party.
"Consolidated conflicts could not be the basis upon which peace and stability are built, and we hope that the two sides will find a way in the future to reach an agreement that will lead to a more peaceful and stable environment in the Middle East and provide a better life for all the people in the area", Vucic added.
The US ambassador expressed his gratitude for the fact that Serbia welcomed President Trump's efforts to find a solution to the Israeli-Palestinian conflict, as well as for Serbia's contribution to maintaining regional peace and stability.
He stressed that he was proud of Serbia and its decision to rebuild rail links with Pristina and thus facilitate trade and investment.
In his congratulating statement for the Serbian National Day, US President Donald Trump said he was looking forward to closer co-operation between the two countries.
"Dear President, the American people and I personally extend our sincere and warm congratulations to you and the Serbian people for celebrating National Day on February 15", Trump said in his address.
The US and Serbia share, the US President writes, a common vision for your country, a vision based on deepening regional co-operation, strengthening democratic institutions, peacefully resolving disputes between neighbors and building a better future for Serbian citizens.
"Normalization of relations with Kosovo must remain a priority on Serbia's European integration path," Trump continued in his message.
"In the future, you can also rely on US support to achieve your goal of EU membership, as well as on the reform efforts necessary to achieve that goal," the US president said. /ibna