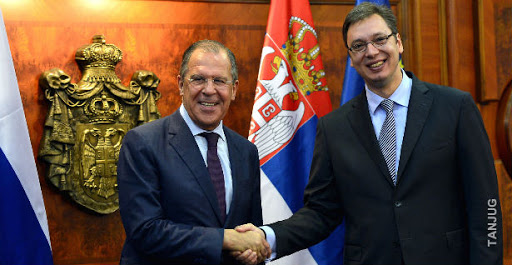 Russian Foreign Minister Sergey Lavrov is visiting Belgrade today for talks with Serbian President Aleksandar Vučić.
Ahead of today's meeting with President Vučić and his counterpart, Minister Ivica Dačić, Lavrov announced that the main topic of discussion would be Washington's proposal to meet with the leaders of Serbia and Kosovo at the White House in late June.
As Lavrov said yesterday from Moscow, he expects to discuss specifically how the Serbian leadership sees the practical steps taken by the countries that offer their services in the mediation for the continuation of the dialogue.
"President Vladimir Putin has repeatedly stressed, among other things, in meetings with President Aleksandar Vučić, that Russia will support the agreements with Kosovo that will be accepted by Serbian citizens, but not on the basis of written texts, but also on the possibility of implementing them", Lavrov told reporters.
As he explained, the head of the Russian Diplomacy would not want the possible agreements between Belgrade and Pristina to have the same fate as "with the mediation of Brussels", when this mediation "remained only on paper".
The significance of Sergey Lavrov's visit to the Kosovo settlement process is also evidenced by the fact that it comes days after Serbian President Aleksandar Vučić spoke over the phone with Russian President Vladimir Putin, with the Kremlin declaring that "Moscow has been committed to a compromise solution, accepted by Belgrade, which must be approved by the UN Security Council".
With this visit of Sergey Lavrov, at a time when Miroslav Lajcak is trying to restore dialogue with Pristina and ask the officials there to reach an agreement with Belgrade – while in Washington they are waiting for the leader of Kosovo and Aleksandar Vučić with similar ideas – Lavrov shows that Russia cannot be sidelined in resolving the Kosovo issue.
The meeting at the White House, as announced by Grenell, will take place on June 27 and before that, on June 24, the Serbian President will go to Moscow where he will attend the celebration of Victory Day and meet with Russian President Vladimir Putin./ibna