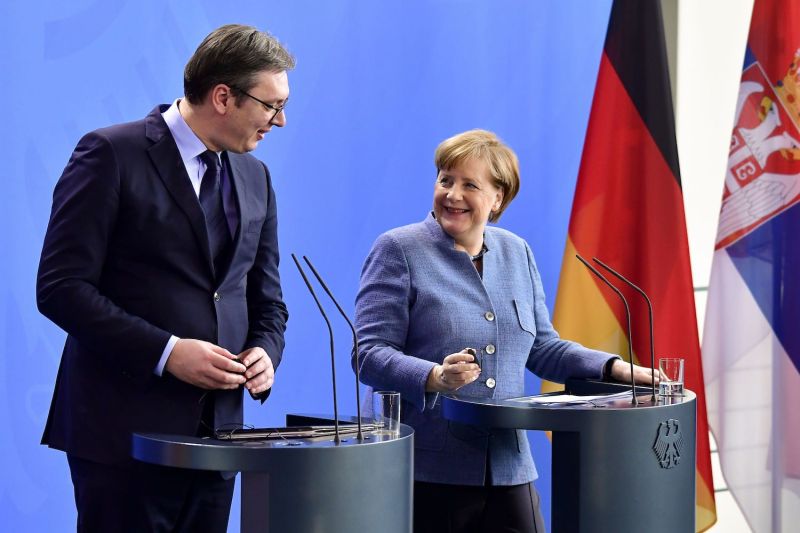 Serbian President Aleksandar Vučić had a long conversation with German Chancellor Angela Merkel on Kosovo and Metohija and Serbia's European course.
According to Vučić, it was a wonderful discussion about Kosovo and Metohija and the European course of Serbia, which encouraged him before the trip to Washington and Brussels.
"We have not had such a one-on-one conversation for a while now, and I mean for a few months either in person or by phone; we primarily talked about Kosovo and Metohija, as well as and Serbia's path to the EU", said Vučić, thanking Merkel for Germany's assistance to Serbia.
He also said that the German Chancellor repeated the same thing she had said after the conference in Paris, also attended by Hoti and others, that he utilizes experience more and shows less emotions, adding that he would try to continue like this.
"She encouraged me before the trip to Washington and Brussels and now, with all the energy and support I have from our people, with this conversation with Merkel, I will be traveling to these two important places with an even stronger attitude", he said.
Vučić also pointed out that the conversation with Merkel took place at his request.
The Serbian President also added that they had agreed with the German Chancellor on the importance of the recently signed agreement with the German Minister of Economy and Energy Altmeier.
The Serbian president proceeded to those remarks after the Bled forum held in Slovenia, where he met with the prime ministers of the countries in the region.
The Serbian President also referred to the conversation he had with the EU Special Envoy for the dialogue between Belgrade and Pristina, Miroslav Lajcak.
Vučić said that he told Lajčák what Serbia's goals were, adding that they mainly concerned the fulfillment of the Brussels Agreement, that is, the creation of the Association of Serbian Municipalities (ZSO). "I have great respect for what Lajcak says about normalizing relations. This normalization of relations differs both legally and politically from what Pristina and some others say", Vučić said.
He added that they also talked about a compromise between Belgrade and Pristina, how to reach that solution, how to fight for Serbia's interests, how to bring Serbia into the EU and how to ensure that Serbian citizens are more successful.
Asked what he expects from the upcoming talks between the representatives of Belgrade and Pristina in Washington and then in Brussels, Vučić replied that Belgrade wishes to continue the dialogue with Pristina under the auspices of Brussels and head to a meeting in Washington to discuss important economic issues.
"I believe it is possible to reach an agreement on these issues, which have significance for Serbs and Albanians in Kosovo and Metohija, and which are important for both Belgrade and Pristina", Vučić said, adding that he had discussed the details with EU Special Representative and that it was agreed to meet on 27 September, after which talks are expected to intensify in Brussels.
"We were never afraid of conversation and dialogue, and so we showed our strength, not our weakness", Vučić said.
Speaking about the elections in Montenegro, he stressed it was important to raise public awareness and that, as soon as there were official results, he would congratulate those who would form the majority in the Montenegrin parliament and hope for good relations between Serbia and Montenegro.
He also stressed he was confident that Montenegro would maintain stability and peace, rejecting speculations that Montenegro could be a new point of instability in the Western Balkans following these elections. /ibna