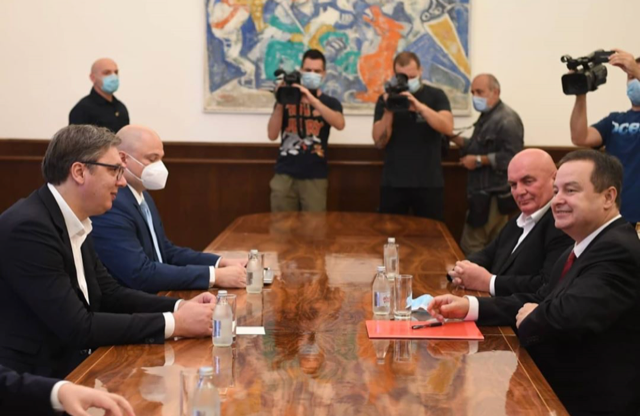 Today, Serbian President Aleksandar Vučič met with the representatives of the electoral list Ivica Dačić – "Socialist Party of Serbia (SPS), United Serbia (JS) – Dragan Markovic Palma" in the context of the consultations for the formation of the new government.
Dačić and Markovic arrived at the Presidency building in Andrićev venac shortly before 9 p.m.
There was no discussion on the deadlines for the formation of the assembly and the government, nor on the names of the ministers or services, SPS leader Ivica Dačić said after meeting with Aleksandar Vučić during the consultations on the formation of the new government.
According to Dačić, the SPS is ready to carry on with cooperation.
"I do not decide whether the SPS will be in government. Personally, I would never choose the main opposition. The SPS is ready to continue cooperating with the SNS, and their cooperation should be based on common goals", Dačić added.
Vučić will also meet with representatives of the SNS, while last week he also held talks with other representatives of the electoral lists that won seats in the parliamentary elections.
Vučić met with representatives of the Albanian Party, the Justice and Reconciliation Party of Moamer Zukorlić, SPAS and the Alliance of Vojvodina Hungarians. /ibna