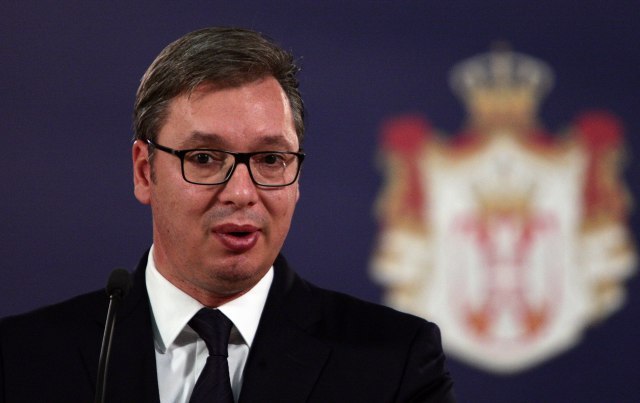 The Chinese model of aggressive policy will be followed by Serbia to battle coronavirus, Serbian President Aleksandar Vucic said at a news conference, following a meeting with members of the Crisis Group and Chinese doctors. Health personnel arriving from China on Sunday night transported medical equipment donated by the People's Republic of China to Serbia.
The Serbian President said in the interview that three issues were discussed during the meeting; the first was about the treatment and the aggressive policy on dealing with the virus. The second was the additional measures that are required by the state to enhance the efforts of doctors and the third the financial measures that will facilitate the overcoming of the crisis.
"On the first issue, we will change our approach and our policy. With the support of our Chinese friends, we will begin within 48 hours, a drastic increase in testing. We have enough tests", Vucic said. "Why are we doing this? he asked himself, adding, "why this complete change of approach now?"
"Many countries in Europe are fighting and acting politically. We will do our best, we will fight twice as hard as before. What Do Chinese Doctors Say? It's like having a gangrene on your feet and successfully cutting one milligram every day and it keeps spreading… So the goal is to reach as many people as possible. When we do, we will find some of the nearly healthy tissue. When we do this, the body will be healthy. For the Chinese, the crisis lasted 29 days. They said that there is no reason to extend the traffic ban, so we will not extend the traffic ban", the Serbian President said.
Explaining what he means by mass testing, Vucic noted that they will try to explore all contacts and extend the circle of contacts until they reach the healthy population. Depending on the condition of the confirmed case, the appropriate procedure will follow: self-quarantine, hospitalization or intensive care.
As for chloroquine, Vucic said production is about to start, although there is stock. Regarding respirators, he stressed that the quantities would triple in the next 15 days, with 20 million surgical masks expected to be introduced.
"We have done everything we can for the state work properly. The most important thing for us is for the doctors to hold on, they are already tired, and even more efforts await us", Vucic said, adding that he would talk about additional measures after the "counterattack" on the coronavirus, that is, the huge population testing.
With regard to the financial measures, the Serbian President said a serious package of measures will be made available for the private sector, while pensions and salaries will not be reduced. The package to boost the economy will be between USD 2.5 billion and USD 4.5 billion, according to Vucic./ibna