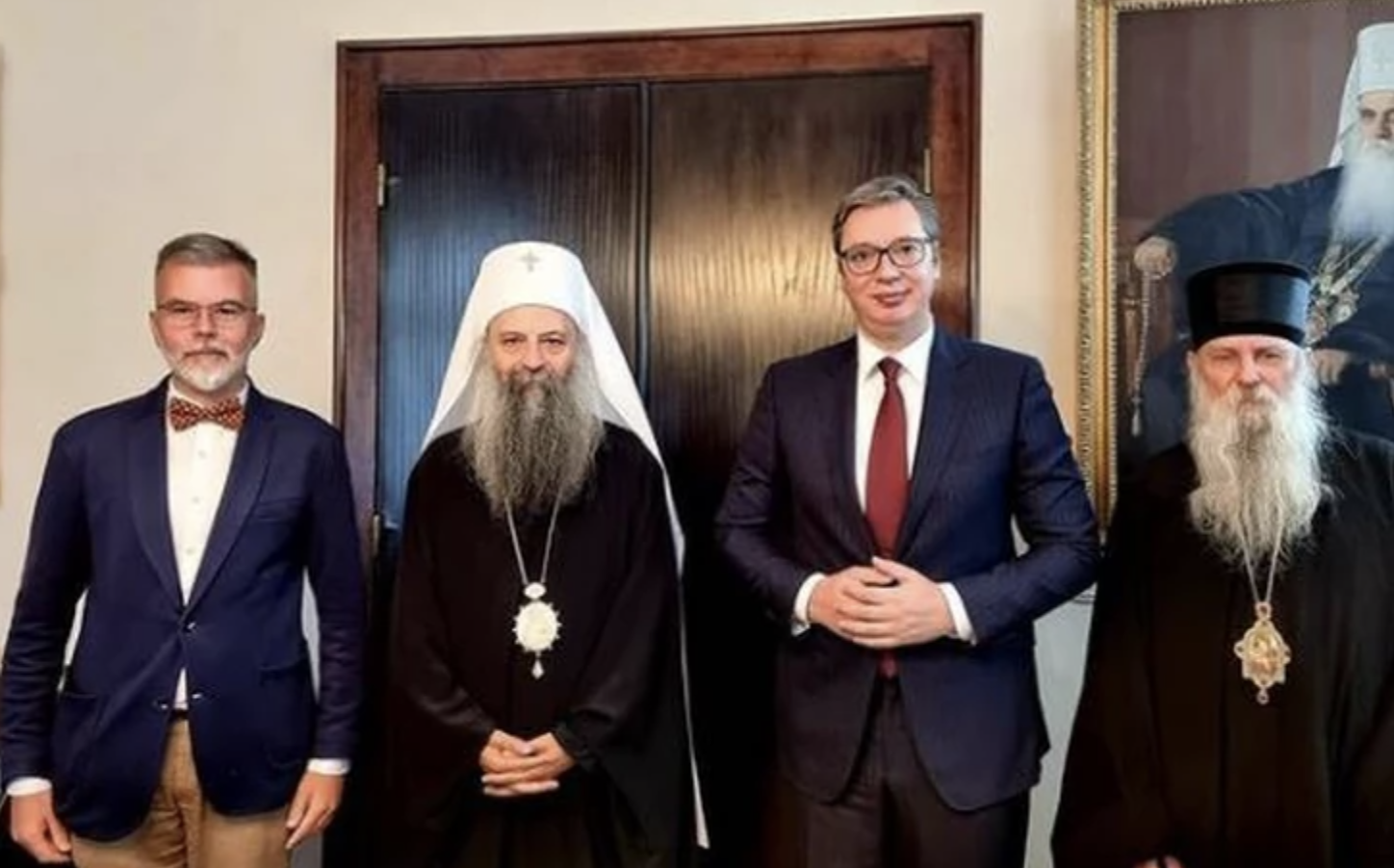 Serbian President Aleksandar Vucic said that Serbia will do everything to ensure that the victims of Jasenovac are not forgotten, after an agreement was reached today in talks with Patriarch Porfirje on the construction of a memorial centre in Donja Gradina, which will recall all crimes against the Serbian people.
"The Pan-Serbian shrine will be built in the saddest place, in Donja Gradina. Serbia and the Serbian people remember. Serbia is not ashamed of its victims. They are our heroes and we will do our best to ensure that their heroic act is not forgotten," Vučić wrote on his Instagram profile.
The post also published a video of part of Vučić's presentation in which he states that he spoke with the patriarch about "how to strengthen the culture of memory".
"We talked about how to do everything to ensure that the victims of Jasenovac are not forgotten, what is it that the state can help the Serbian church, which has an extremely important role in this whole process. What is important for us, today we finally reached an agreement and I convey to you the confirmation and Mr. Dodik's confirmation to start building what should have been a Pan-Serbian shrine to build a large memorial centre in the saddest part of Donja Gradina on the territory of the Republic of Serbia, but in which we will remember all the other crimes committed against our people, so that we remember that the Serbian name and surname will not be erased," Vučić said.
Vučić met with the patriarch on the occasion of the 80th anniversary of the establishment of the concentration and death camp system in Jasenovac and the renovation of the Jasenovac monastery monument complex.
The Jasenovac camp was the largest concentration and death camp in the occupied Kingdom of Yugoslavia during World War II.
It was created by the Independent State of Croatia (NDH) in August 1941.
The camp was destroyed by the Ustase (Croatian Revolutionary Movement) in April 1945 in order to hide the traces of the crimes committed.
The Croatian state administration called the place of torture and murder of Serbs, Jews and Roma "the Jasenovac labour camp".
The exact number of victims in the Jasenovac camp systems has never been determined.
As of 2012, the Jasenovac Park Memorial has compiled a list of approximately 83,000 victims, while the Museum of Genocide Victims has compiled a list of approximately 88,000 victims./ibna