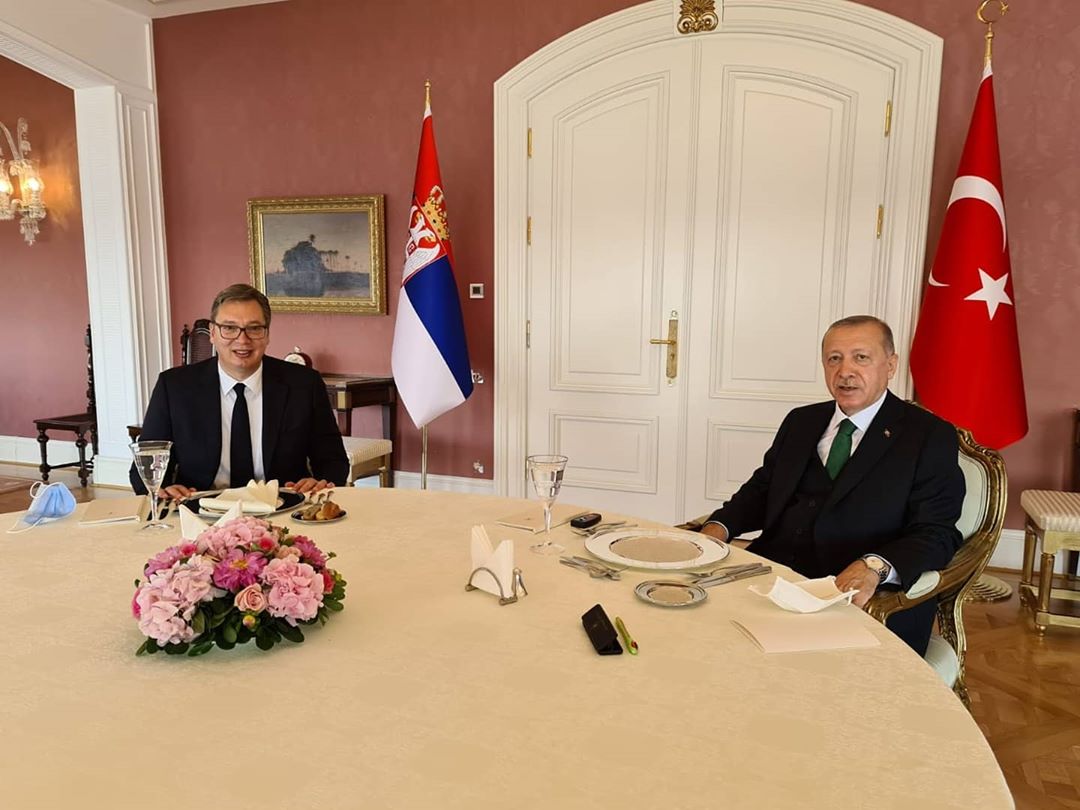 Serbian President Aleksandar Vucic and Turkish President Recep Tayyip Erdogan met in Istanbul for a working lunch.
Following the meeting, Vučić stated to the reporters that this meeting in Istanbul, as well as his intensive diplomatic activity over the past one-and-a-half month, is part of the state-led struggle for the survival of the Serbian economy amid these difficult times. As he pointed out, the economic parameters around the world are worse than during the great crisis of 1929.
Vučić recalled that Turkey constitutes not only a Mediterranean, European and regional power, but also one of the eight largest forces worldwide.
He said he had talked to Erdogan about political co-operation, but also about infrastructure projects.
He said they discussed projects already under implementation by Turkish companies on major highways, as well as new road construction projects.
The creation of an industrial zone in Voivodina with one of the largest Turkish companies in the world was also discussed.
"I believe this will not only solve the problem of unemployment, but will also contribute to overall GDP growth and resolve the issue of further increases in pensions and wages", he stressed.
Vučić estimated that such an industrial zone would operate as a tremendous incentive for the development of the national economy.
"The industrial zone means that a large number of Turkish companies will establish their headquarters and start operating from there, to produce and provide services there; Serbia will become their country of residence and this is huge for Serbia", Vučić argued.
The Serbian President pointed out that his wish was to attract the best Turkish, German and all other investors, because investments, he stressed, are a way for Serbia to further grow financially.
He also mentioned that they discussed regional relations in order to see how and in what way Turkey can contribute in its efforts to maintain peace and stability.
Furthermore, he added that the talks included cooperation in international organizations, on which, as Vučić said, he asked Erdogan to understand the Serbian position, because we do not share the same points of view on all issues.
In addition, they discussed a new bilateral meeting in Serbia, as well as a tripartite meeting with BiH in Sarajevo, once the pandemic is over.
Vučić went on to say that they discussed all agreements between Serbia and Turkey, as well as relations with Pristina.
"We exchanged views, I listened to Erdogan and he showed great respect for our country", Vučić said, stressing that this was not about Erdogan's respecting on a personal level, but his respect toward Serbia.
Asked to comment on his earlier remarks regarding Turkey not wanting for some other countries to use Serbia as a shield in their fight against Turkey, Vučić replied that we do not want conflicts with Turkey.
"We want to have a good relationship and that's it. On the other hand, we have our Greek friends, but that goes without saying. Serbia has its own path of peace, economic progress and these are our interests. We respect people who show respect for our country and we will always behave like that. We will be the guardians of everyone else…. We paid a high price in the 14th century and many centuries later", Vučić said.
"Our task is to see how we develop and that the situation is much better now", Vučić added.
The President of Serbia also stated that the maps in the global geopolitical scene are changing dramatically and that Serbia has gained importance following the Washington meeting and in therms of the attitude of other countries towards it.
He stressed that in Istanbul this did not happen to the Turkish President, because he knew Serbia and him well before US President Donald Trump.
However, it changed the attitude of Saudi Arabia, and the ambassador told them very specific things, which are the result of the talks in the United States, adding that the American side also changed its attitude, which becomes evident by the fact that it is ready to respect and engage in dialogue with Serbia.
"A huge change", Vučić said, recalling that last month he had the opportunity to meet with Putin, Merkel, Macron, Erdogan, Mogherini.
"Serbia deserved all this, because it is more successful and more important than before", Vučić said. /ibna