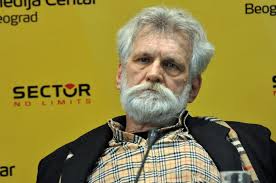 Belgrade, September 13, 2016/Independent Balkan News Agency
By Milos Mitrovic
Upcoming presidential elections in Serbia would be the last conducted directly by citizens, professor at the Belgrade Faculty of Political Sciences said. According to Zoran Stojiljkovic, prime minister Zoran Stojiljkovic would prefer indirect elections, which means that the parliament should pick the president.
Serbia media speculate on alleged preparation of the incumbent Tomislav Nikolic for reelection bid as well as on the rift between him and Vucic. Nikolic recently rebuffed such rumors.
In the interview for N1 television, Serbian CNN affiliation, Stojiljkovic suggested that it is unclear whether Vucic and SNS would fullheatrdetdly support possible Nikolic's campaign.
Both Nikolic and Vucic steam from ruling Serbian Progressive Party – SNS.
Stojiljkovic predicts that ruling tandem would not make an impression of division ahead of elections.
For both SNS and citizens introducing parliamentary system would be better, believes FPN professor adding that such a change would require amending the constitution.
Still, he think that the next Serbian president would be the last directly elected.
Considering opposition candidate, Stojiljkovic says that the actual scenario of going with "independent nominee", such as ombudsman Sasajanovic, is the result of the weakness of opposition parties and strong animosities among them. Their leaders are also unpopular, he suggests.
It is not certain if Jankovic would accept presidential bid as well as whether opposition groups would truly honestly him, Stojiljkovic underlined.
Photo: Zoran Stojiljkovic